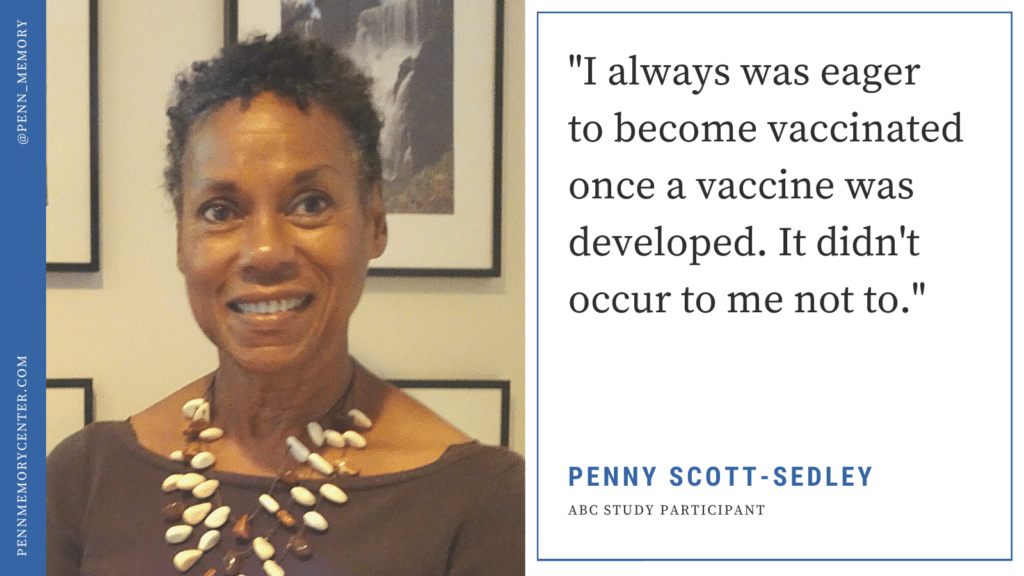 By Sharnita Midgett
On Feb. 24, Penny Scott-Sedley walked into the Perelman Center, eager for her chance to move towards a safer world after a year of the pandemic.
As an ABC participant, normally she would hear from Penn Medicine about her upcoming ABC visit. However, this time, she received an email from Penn Medicine informing her that she could schedule her appointment for the first dose of the COVID vaccine. Scott-Sedley knew that there would be spring-like weather in Philadelphia on Feb. 24, so with excitement, she planned to receive her dose that Wednesday.
"I always was eager to become vaccinated once a vaccine was developed. It didn't occur to me not to, especially not after it was reported that Blacks in this country were experiencing a much higher incidence of serious illness once contracting the virus and succumbing to it in higher numbers," Scott-Sedley began.
Her appointment time was busy, but she noted that the process was extremely well-organized.
"It took no time to get through to the person who would perform the jab, and the wait afterwards for monitoring any adverse reactions was easy-peasy."
She had no reactions after receiving the first dose of the Pfizer vaccine.
"As a Black woman of a certain age, I was aware of the historical struggle that Blacks have faced from racist and unethical scientists. Think the horrific Tuskegee Institute Scandal. But in this instance, we would not be singled out for the vaccine to the exclusion of other groups. So I considered it to be a safe bet."