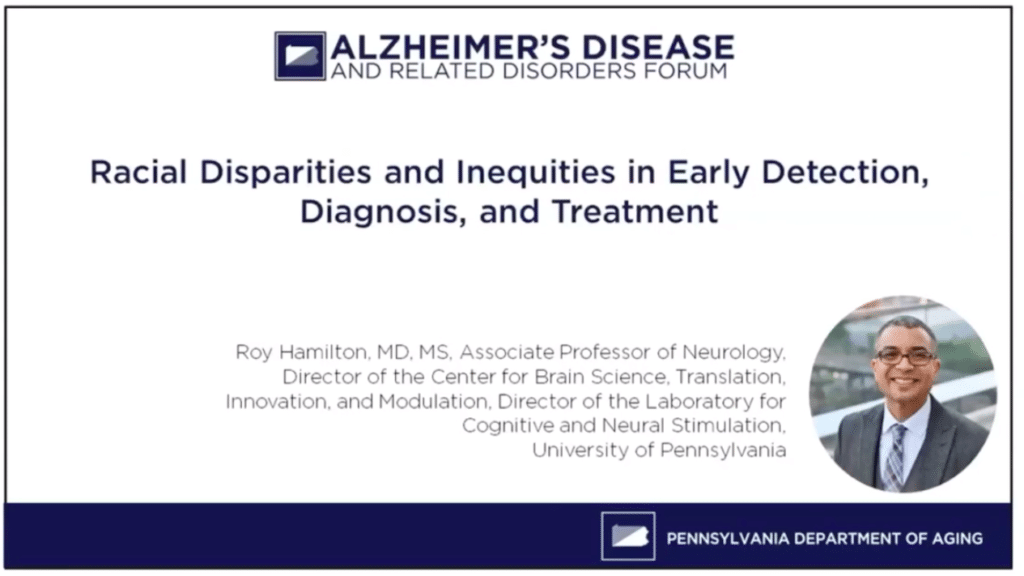 By Abigail Ahearn
Around the time Roy Hamilton, MD, MS, was completing his neurology training, his father began developing memory-related issues. Dr. Hamilton noticed that his father was repeating himself in a conversation, forgetting important names, and having trouble with financial management and route finding.  
At the 2020 Alzheimer's Disease and Related Disorders (ADRD) Forum on Nov. 5, Dr. Hamilton spoke about his personal experience with the disease. 
"Even though at the time I was training to become a neurologist, there were a lot of thoughts that went through our minds and different ways of framing what was happening to my father, that sort of got in the way of a clear-eyed view of what was actually happening," he said. "A lot of thoughts went through our minds that may have gotten in the way of him getting the kind of care that he needed initially, even though he was the father of a neurologist and someone who is going to become a cognitive behavioral neurologist who sees patients with Alzheimer's disease." 
Dr. Hamilton is currently  a physician researcher at the Penn Memory Center and served as the keynote speaker at the ADRD forum hosted by the Pennsylvania Department of Aging.