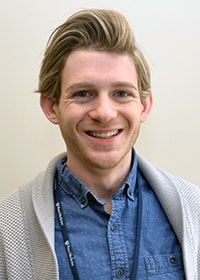 By Cait Kearney
Matthew Ferrara, MS Ed., is leaving the Penn Memory Center (PMC) after three years as a clinical research coordinator.  
"Matt has been an absolute delight to work with in his time here at the PMC," said PMC Co-Director David Wolk, MD, "Matt will be missed by our faculty, staff, and research participants." 
Ferrara joined PMC in 2018 as a coordinator for PMC's largest study — the Aging Brain Cohort (ABC) Study. Data collected through the ABC Study is used by scientists across the nation and the world to research Alzheimer's disease and life-long brain health. 
"He displayed a remarkable dedication to the success of the ABC study to the benefit of our research participants and the numerous studies that depend on these data," Dr. Wolk said.