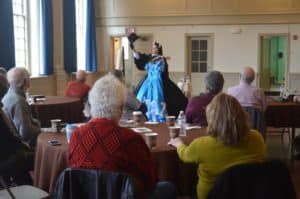 The Penn Memory Center is pleased to invite our patients and friends to a virtual monthly pop-up café. This program is exclusively for people with memory problems, including Alzheimer's disease, and their partners/families.
Fall 2022 Schedule:
Memory Cafe: Bird Watching Tour in Fairmount Park with In Color Birding Club
October 21, 10 – 11:30 a.m., in-person at Fairmount Park
Join us for an immersive birding outing. We will be led by Jason Hall and other members of the In Color Birding Club. We will use sight, sound, and storytelling to discuss the birds of Fairmount Park. This activity will require some walking around Fairmount Park. This event will be walker and wheelchair accessible. If you have binoculars please bring some but the host will have some we can share as well.
Memory Cafe: Music and Poetry Workshop with Taije Silverman
November 11, 11 – 12:00 p.m., in-person at Ralston House
We will learn how to analyze creative works in a new way. Guests will create a unique piece of creative writing using the 5 senses to be shared during the workshop. These descriptions will help us write scenes and think creatively. This event is open to older adults and their family caregivers. Doors open at 10:30 a.m.
Questions?
Contact: Meg Kalafsky
Phone: 267-624-4282
Email: megan.kalafsky@pennmedicine.upenn.edu
Previous Guests