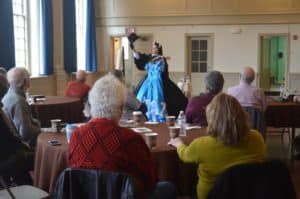 The Penn Memory Center is pleased to invite our patients and friends to a virtual monthly pop-up café. This program is exclusively for people with memory problems, including Alzheimer's disease, and their partners/families.
Fall 2022 Schedule:
Memory Cafe: The Abstract Expressionist: Attempting the Impossible
December 2, 10:30 – 12:00 p.m., in-person at Ralston House
Are you a lover of abstract art or interested in learning more about it? At this Memory Café, join Philadelphia artist Tom McCloskey for a discussion of the works of abstract expressionists like Mark Rothko, Jackson Pollock, and Helen Frankenthaler. Also, supplies will be provided for you to create your own abstract artwork during the event. This event is open to older adults and their family caregivers. Doors open at 10:30 a.m.
Questions?
Contact: Meg Kalafsky
Phone: 267-624-4282
Email: megan.kalafsky@pennmedicine.upenn.edu
Previous Guests