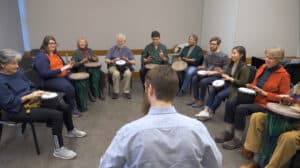 This fun, free, IN-PERSON interactive program is powered by the talented Community Artist Fellows and showcases the expressive power of music. We invite those who love music to join us in making, enjoying, and discussing a variety of musical compositions.
We welcome all families and individuals affiliated with the Penn Memory Center. Carers (caregivers and care partners) are also encouraged to join. We welcome all experience levels and will make the class accessible to those with cognitive impairment or dementia, however, those with a diagnosis of dementia will need a partner for the program.
Spring Schedule: January 30th to April 17th
Location: Curtis Institute (1616 Locust St, Philadelphia, PA 19103) Room 305
Time: 11:30 AM -1:00 PM
We are able to offer a limited number of tickets for programs like this. Please confirm your availability before proceeding with your registration so that we can maximize the number of attendees.
Masks will be required to participate in this event.
Registration Button: This class is free, RSVP by clicking this link and completing the Eventbrite registration. 
This class/program is free to patients/families seen at the Penn Memory Center and made possible from the philanthropic Caring Difference fund. Please consider making a donation so that we are able to continue offering support programs such as this.
If you are not affiliated with the Penn Memory Center, you are welcome to join this class/program if you make a donation of any amount to the Caring Difference fund.
Questions?
Contact: Meg Kalafsky
Phone: 267-624-4282
Email: megan.kalafsky@pennmedicine.upenn.edu