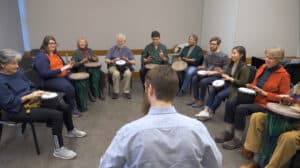 This fun, free, IN-PERSON interactive program is powered by the talented Community Artist Fellows and showcases the expressive power of music. We invite those who love music to join us in making, enjoying, and discussing a variety of musical compositions.
We welcome all families and individuals affiliated with the Penn Memory Center. Carers (caregivers and care partners) are also encouraged to join. We welcome all experience levels and will make the class accessible to those with cognitive impairment or dementia, however, those with a diagnosis of dementia will need a partner for the program.
The upcoming schedule is to be determined and will be announced shortly.
Questions?
Contact: Meg Kalafsky
Phone: 267-624-4282
Email: megan.kalafsky@pennmedicine.upenn.edu