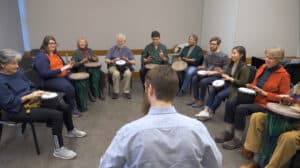 This fun, free, VIRTUAL interactive program is powered by the talented Community Artist Fellows and showcases the expressive power of music. We invite those who love music to joins us in appreciating and discussing a variety of musical compositions over our 8-week class.
We welcome all families and individuals affiliated with the Penn Memory Center. Carers (caregivers and care partners) are also encouraged to join. We welcome all experience levels and will make the class accessible to those with cognitive impairment or dementia, however, those with a diagnosis of dementia will need a partner for the program.
Schedule: The class will be live every Tuesday at 11 AM Eastern Time. The class will typically last an hour, until 12 PM. The class will start on Tuesday, October 19, 2021, and run for 8 weeks with the last class on Tuesday, December 7th, 2021. You can join us at any time during the 8 weeks but make sure to RSVP!
Questions?
Contact: Meg Kalafsky
Phone: 267-624-4282
Email: megan.kalafsky@pennmedicine.upenn.edu