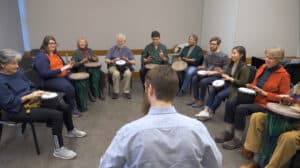 If you or your loved one has been diagnosed with mild cognitive impairment or early-stage Alzheimer's disease, learn more about Creative Expression Through Music, a collaboration between the Penn Memory Center and the Curtis Institute of Music.
This fun, free interactive program is powered by the talented Curtis musicians and showcases the expressive power of music composition. Those with a diagnosis of dementia will need a partner for the program. Anyone who loves music can come participate in musical activities, active listening and the creation of brand new musical works.
Lessons will be on Zoom. The first five weeks will be an intro to the program with some musical education. The second half will be creating a narrative that will become a composition for performance.
Enrollment for Spring 2021 for this program is full.
Sessions are 11 a.m. to 12:30 p.m. on Tuesdays. The last session is on May 4th.
You can contact the program coordinator Kelli Sloan at kelli.sloan@pennmedicine.upenn.edu.