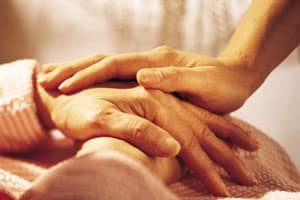 The Penn Memory Center offers a seven-week psycho-educational Caregiver Class for those caring for a family member/loved one with Alzheimer's disease (AD) and other forms of dementia.
Caregivers of people with AD or other forms of dementia may experience feelings of sadness, anger, confusion, hopelessness, or frustration.  This course is designed help caregivers develop skills to better help their loved one – and themselves – cope with the many changes of living with dementia. Unlike a typical support group, this course offers a unique seven-week curriculum. While participants will learn some specific techniques to better care for loved ones, this class stresses ways of coping with the personal and emotional challenges caregivers face.
The class is open to anyone caring for someone with dementia of any stage, though much of the curriculum is geared toward individuals caring for someone who needs support with tasks such as managing money, medicines, cooking, or driving, and who may be showing changes in their personality and behavior.  
We currently offer one asynchronous class. The Fall 2023 schedule for live classes will be available shortly. 
The asynchronous class is pre-recorded by Felicia Greenfield, LCSW and can be taken at the participant's own pace. The pre-recorded class includes the same material as the live caregiver classes, but without the in-person or virtual office hours with a social worker. You can start the pre-recorded class whenever you like and can move through it at your pace. To begin, we ask you fill out a pre-survey. Once you complete the pre-survey, you'll receive instructions on how to access the caregiver class videos.
Complete Caregiver Class Pre-survey
Following completion of the caregiver class, participants will have the opportunity to join a PMC caregiver support group.
Topics Include:
• Understanding and better managing behavior and emotions, especially conflicting, negative or distressing thoughts and feelings;
• Finding the personal "fuel" needed for caregiving through strategies including recognizing and sustaining pleasant events;
• Communicating effectively with family, friends, and others to access needed help;
• Understanding what's ahead, and planning medical, legal, and financial next steps.
For more information, please contact: Alison Lynn, LCSW at alison.lynn@uphs.upenn.edu or 215-360-0257