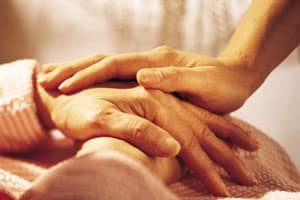 The Penn Memory Center offers a seven-week Psycho-educational Caregiver Class for those caring for a family member/loved one with Alzheimer's disease (AD) and other forms of dementia. Due to COVID-19, our class will be structured differently this fall. We will be meeting virtually, via Zoom, from 3 to 5 p.m. on Mondays from October 5 through November 16.
While we normally cap our classes at 10 participants, we are expanding class size to 20 in order to reach as many caregivers as possible during this difficult time. The class will consist of a combination of group lectures, and smaller, moderated breakout groups for discussion. The class will be co-led by Felicia Greenfield, LCSW, and Alison Lynn, LCSW.  We will also be joined by our team of master's level social work interns. You will receive all class materials beforehand via PDF.
As always, first priority will be given to caregivers caring for a patient of the Penn Memory Center or Penn general neurology. In order to register, you must make a commitment to try to attend all 7 classes (of course we understand if you have to miss a class for a long-standing appointment and can offer a make-up class for these, or for unexpected illnesses).
You can access the registration using this link. Spots in the class are first-come, first-served based on the order in which we receive your registration. Once we receive your completed registration, you will be contacted to be scheduled for a brief (10 minutes or less) phone screening.
Caregivers of people with AD or other forms of dementia may experience feelings of sadness, anger, confusion, hopelessness, or frustration.  This course is designed help caregivers develop skills to better help their loved one – and themselves – cope with the many changes of living with dementia.
Unlike a typical support group, this course offers a unique seven-week curriculum. While participants will learn some specific techniques to better care for loved ones, this class stresses ways of coping with the personal and emotional challenges caregivers face.
Topics Include:
• Understanding and better managing behavior and emotions, especially conflicting, negative or distressing thoughts and feelings;
• Finding the personal "fuel" needed for caregiving through strategies including recognizing and sustaining pleasant events;
• Communicating effectively with family, friends, and others to access needed help;
• Understanding what's ahead, and planning medical, legal, and financial next steps.
The class is open to anyone caring for someone with dementia of any stage, though much of the curriculum is geared toward individuals caring for someone who needs support with tasks such as managing money, medicines, cooking, or driving, and who may be showing changes in their personality and behavior.
For more information, please contact: Alison Lynn, LCSW at alison.lynn@uphs.upenn.edu or 215-360-0257