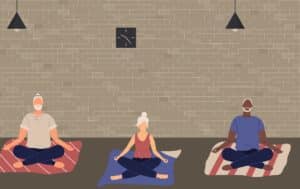 Kate Lietz, a social worker at the Penn Memory Center, has created a new monthly program of meditation and mindfulness this summer, that focuses on techniques of meditation & mindfulness to promote well-being. Once a month on Tuesday mornings, we will explore mindfulness exercises that can be done in a group and/or solo when you are at home. In this group, we hope to build a community and a basic understanding of how mindfulness can be integrated into your daily life. Mindfulness practices and exercises can help ease your stress, calm your mind, and ground you in the present moment. Each session will include guided meditations, an introduction to mindfulness and meditation techniques, and a group discussion focusing on self-care, self-love, and acceptance.
We welcome all families and individuals affiliated with Time Out, Weekly Smile, and Penn Memory Center. Carers (caregivers and care partners) are also encouraged to join. We welcome all experience levels with meditation and mindfulness and will make the class accessible to those with cognitive impairment or dementia.
Schedule: This free class will be live on the 3rd of each month this summer on Tuesday at 10 a.m. EST. The class will typically last approximately 1 hour, from 10 to 11 a.m. You can join us at any time but make sure to RSVP!
Summer Dates: 
May 17:What is self-care & what role do meditation & mindfulness play? Learn techniques that you can implement in day-to-day life & participate in a guided meditation to promote self-care. Discussion to follow.
June 21: Exploring Loving Kindness. We will examine how can showing loving kindness to ourselves & others improve feelings of self-worth & self-care?
July 19: Self Acceptance. We will explore how can we accept ourselves & our current circumstances while also engaging in positive future-oriented change.
Register for Meditation and Mindfulness Class
Questions?
Contact: Meg Kalafsky
Phone: 267-624-4282
Email: megan.kalafsky@pennmedicine.upenn.edu