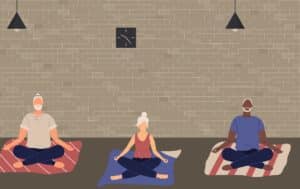 PMC's Amanda Bloom will guide participants in a program of meditation and mindfulness that focuses on techniques of meditation & mindfulness to promote well-being.
Weekly on Monday mornings, we will explore mindfulness exercises that can be done in a group and/or solo when you are at home.
In this group, we hope to build a community and a basic understanding of how mindfulness can be integrated into your daily life. Mindfulness practices and exercises can help ease your stress, calm your mind, and ground you in the present moment.
Each session will include guided meditations, an introduction to mindfulness and meditation techniques, and group discussions. We welcome all experience levels with meditation and mindfulness and will make the class accessible to those with cognitive impairment or dementia.
Schedule: Mondays, October 9 through December 11.
Time: 11 a.m. to 12 p.m.
RSVP for Mindfulness Meditation
This class/program is free to patients/families seen at the Penn Memory Center and made possible from the philanthropic Caring Difference fund. Please consider making a donation so that we are able to continue offering support programs such as this.
If you are not affiliated with the Penn Memory Center, you are welcome to join this class/program if you make a donation of any amount to the Caring Difference fund.
Questions?
Contact: Meg Kalafsky
Phone: 267-624-4282
Email: megan.kalafsky@pennmedicine.upenn.edu