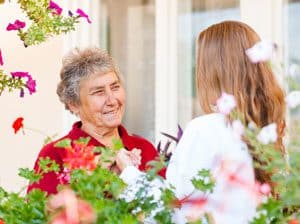 Individual Therapy
Individuals experiencing difficulties with depression, anxiety, adjustment, or aging-related problems, caregiver stress, or other concerns may meet weekly or biweekly with a license psychologist or licensed clinical social worker. Sessions may be time limited or ongoing, depending on need.
Counseling for caregivers or families
Individuals or families caring for a loved one with dementia may experience increased stress, depression, or anxiety. PMC licensed clinical social workers or social work trainees are available to provide brief (6-8 week) counseling sessions for individuals and/or families. If you are interested in brief treatment/short-term counseling, please contact felicia.greenfield@pennmemorycenter.org. Please note that we are currently on a waiting list for this service.
Billing and Scheduling
Psychotherapy services are billable to insurance, and this service can be offered virtually for the time being. Felicia Greenfield, LCSW and Alison Lynn, LCSW are psychotherapists at the PMC, and they supervise trainees. Presently, Greenfield and Lynn are accepting new clients on a wait list only. If you are out of network with our insurance or would like to be seen by a PMC trainee, please email alison.lynn@pennmedicine.upenn.edu.