By Danny Yarnall
The Penn Memory Center Scholars Program — the cornerstone of PMC's efforts to train the next generation of Alzheimer's disease researchers — is now named after the man responsible for first launching the Center.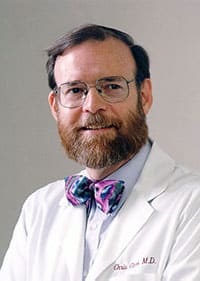 The new title, The Christopher M. Clark Scholars Program at the Penn Memory Center (PMC), honors the late Dr. Clark, PMC founding director, for his contributions to Alzheimer's research. This commitment also underscores the belief that perspectives from psychology and economics belong at the table just as much as neurology and geriatrics when it comes to our work. 
"Chris Clark was committed to a vision: excellence in Alzheimer's disease diagnosis, care, and research required a diversity of disciplines and sciences working and learning together. The Christopher M. Clark Scholars Program was founded to fulfill that vision," said PMC Co-Director Jason Karlawish, MD. "We seek to nurture and support the best minds and to instill in them the virtues Chris lived. He understood the value of listening, tolerance, and a consistent and unwavering commitment to professional ethics."
Before founding what would become the Penn Memory Center in 1990, Dr. Clark was a professor of neurology at Penn Medicine from 1977 to 1984. He left Penn in 1985 for Duke University, where he and a colleague started the multicenter Consortium to Establish a Registry for Alzheimer's Disease (CERAD), a groundbreaking effort in the United States to establish a consistent assessment for Alzheimer's disease. 
Over the next 17 years, Dr. Clark forged the field of Alzheimer's research as the director of the clinical core of the National Institute of Aging. He led an investigation that successfully showed that a florbetapir PET scan could detect deposits of beta-amyloid on the brain. He presented these findings to the FDA but died in 2012 before hearing that they were accepted.
Since 2014, the Human Amyloid Imaging Conference has presented the Chris Clark Award to a researcher to be used for an educational or training opportunity in the field of human amyloid imaging. 
"Chris would be thrilled and humbled" about the name change, said Anne Clark, Dr. Clark's widow. "Eight years later he is remembered for the work that meant so much to him. This is very touching.
Current Clark Scholars are Cara Kiernan Fallon, PhD, MPH; Emily Largent, PhD, JD, RN; Karolina Lempert, PhD; Dawn Mechanic-Hamilton, PhD, ABPP/CN; Lasya Sreepada; and Shana Stites, PsyD, MA, MS. They bring in diverse perspectives from fields including economics, law, and psychology, and are responsible for innovative and exciting research at PMC.
Dr. Mechanic-Hamilton leads the Cognitive Fitness Programs and Neuropsychological Services at Penn Memory Center. Her clinical research includes integrating technology into neuropsychological assessment and cognitive and behavioral intervention in patients with cognitive impairment. She is currently funded by the Alzheimer's Association to continue work on an app designed to detect the earliest cognitive changes in preclinical Alzheimer's disease. She is involved in ongoing clinical trials at the Penn Memory Center, is a collaborator on multidisciplinary research projects, and supervises trainees from clinical psychology doctoral programs in the Philadelphia region.
Dr. Largent, a bioethicist, has published prolifically, examining ethical and regulatory issues in study design, investigating Alzheimer's patients' opinions on "right to die" legislation, and commenting on ethical conflicts within trial-finding apps. Her latest paper, in PLOS One, presents her findings about how cognitively unimpaired research participants react to the disclosure of amyloid PET scan results. She currently has a career development award from the National Institute on Aging to examine the role of the study partner in Alzheimer's disease research.  
As a clinical psychologist, Dr. Stites takes aim at the stigma of Alzheimer's disease, studying both what patients experience and how others treat them. In one recent study, she collected reactions of people who read stories about fictional persons. The stories differed in what readers were told about the person's biomarker test result, level of cognitive and functional impairment, and opportunity to receive treatment that could change the course of the disease. She and her P3MB colleagues will be publishing the result of the study in the coming months. Dr. Stites is also beginning new lines of research to study how aspects of a person's sex and gender impact on what it means to live with Alzheimer's disease.
Dr. Lempert's work specifically investigates how older adults' cognition affects decision-making. She combines brain imaging with tasks from psychology and economics to study how changes in memory with aging influence decisions about future outcomes and decisions about whom to trust. This research might help identify older adults who are vulnerable to financial exploitation.
Dr. Fallon's public health perspective has guided her postdoctoral research to analyze ethical and policy issues surrounding caregiving, quality of life, and concepts of health in old age. She published an article in the American Journal of Public Health arguing for a redefinition of health as adults live longer often managing two or more diseases. She also recently published a research article on the lasting impact of gender and age biases on chronic disease management. 
Sreepada is a Bioengineering PhD Student at Penn under Dr. Christos Davatzikos in the Artificial Intelligence in Biomedical Imaging Lab. For her doctoral work, Sreepada applies machine learning and statistical modeling to large multivariate datasets to build informative imaging signatures of Alzheimer's disease. This could aid early diagnosis, prognosis and targeted treatment efforts in a precision medicine framework.