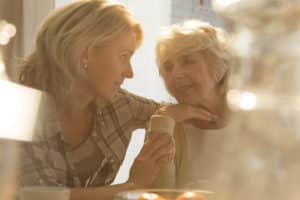 Every day at the Penn Memory Center, we hear caregivers describe the emotional, physical, and logistical challenges they face tending to their loved ones. We're here to help.
Through the Empowering Caregivers series, caregivers will have access to area experts who will present on a variety of intensive topics from symptom management to end-of-life care.
The upcoming schedule is to be determined and will be announced shortly.
Watch Talks from Past Series
A conversation with a genetic counselor: Is the dementia in my family genetic? (Laynie Dratch, ScM, CGC)
Dementia and Sexual Expression (Regina Koepp)
The Legal Perspective: Practical Insights for Patients and Families About Decision-Making and Advance Planning (Valerie L. Snow, Esq.)
Coping with Caregiver Stress during COVID (Barry Jacobs, PsyD)
Elder Care Issues and the Law (Bryan J. Adler Esq. — Rothkoff Law Group)
TimeSlips Engagement Parties: How to joyfully invite friends and family into creative engagement with older adults (Andrew Morton — TimeSlips)
Managing Behavioral Symptoms of Dementia (Rachel Wiley, OT — Day by Day Home Therapy)
Meaningful Activities to Engage Your Loved One (Rachel Wiley, OT — Day by Day Home Therapy)
When, Why, and How to Move to a Memory Care Facility (Sharon Buckmaster, PhD — Future Works Consulting, LLC)
Bathing, Grooming, Dressing, and Other Activities of Daily Living (Rachel Wiley, OT — Day by Day Home Therapy)
Elder Care Issues and the Law (Jerry Rothkoff, Esq. — Rothkoff Elder Care)