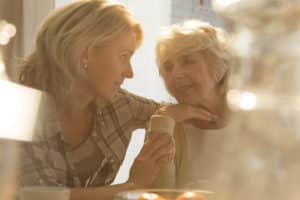 Every day at the Penn Memory Center, we hear caregivers describe the emotional, physical, and logistical challenges they face tending to their loved ones. We're here to help.
Through the Empowering Caregivers series, caregivers will have access to area experts who will present on a variety of intensive topics from symptom management to end-of-life care.
The Empowering Caregivers Workshop Series will resume in Fall 2021. 
Each talk is free and capped at 30 guests. Priority will be given to those caring for patients of the Penn Memory Center. RSVP is required.
To RSVP, contact Alison Lynn, MSW, LCSW at alison.lynn@pennmedicine.upenn.edu or 215-360-0257 and note which workshop(s) you'd like to attend.
Watch Talks from Past Series
Meaningful Activities to Engage Your Loved One (Rachel Wiley, OT — Day by Day Home Therapy)
When, Why, and How to Move to a Memory Care Facility (Sharon Buckmaster, PhD — Future Works Consulting, LLC)
Bathing, Grooming, Dressing, and Other Activities of Daily Living (Rachel Wiley, OT — Day by Day Home Therapy)
Elder Care Issues and the Law (Jerry Rothkoff, Esq. — Rothkoff Elder Care)