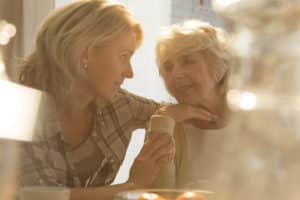 Every day at the Penn Memory Center, we hear caregivers describe the emotional, physical, and logistical challenges they face tending to their loved ones. We're here to help.
Through the Empowering Caregivers series, caregivers will have access to area experts who will present on a variety of intensive topics from symptom management to end-of-life care.
Each talk is free and capped at 30 guests. Priority will be given to those caring for patients of the Penn Memory Center. RSVP is required.
To RSVP, contact Alison Lynn, MSW, LCSW at alison.lynn@pennmedicine.upenn.edu or 215-360-0257 and note which workshop(s) you'd like to attend.
2020 Series
February 13: "Understanding and Managing Challenging Behaviors" — Rachel Wiley, MS, OTR/L, CDP

Most individuals with dementia will experience at least one behavioral symptom throughout the progression of the disease, and this can often be one of the most difficult aspects of caregiving. This presentation will explore reasons why various behaviors occur and strategies needed to reduce and manage behavioral symptoms.
March 12: "Agreeing to Remember: Dementia and Improv" — Rachel Wonderlin, MS
The way we approach improv comedy on stage is very similar to how we should be approaching people living with dementia: open-minded, positive, and ready to agree with the gifts they give us. "Agreeing to Remember" is a workshop which uses the principles of improv such as, "Yes, And" (the ability to agree with and assist your scene partner) to teach the principles of positive dementia care. This interactive, participatory workshop is all about tangible, useful tips and tricks to use in dementia care communication. Participants leave the two-hour workshop with ways to navigate the dementia journey that frame even the toughest topics in a positive light.
April 16: "Geriatric Care Management and Care Planning" — Liz Dunleavy, MSW, LSW, CMC
Liz Dunleavy, owner of Kith Elder Care, will discuss the role of a Geriatric Care Manager/Aging Life Care Specialist and how they can assist clients and their families in navigating needs that can arise during the aging process. During this presentation, Liz will share strategies, insights, and considerations she uses when helping families reach the best solutions in determining to bring services in to the home or placement at a senior facility.
May 14: "Everything You Wanted To Know About End-of-Life Care But Were Too Afraid To Ask" — Stephanie Lynn, RN, MS, CHPN
Stephanie Lynn, hospice nurse at JSSA Hospice in Washington DC, will explain what to expect at the end of life for someone experiencing Alzheimer's Disease or a related dementia. Stephanie will address frequently asked questions as: What is the difference between palliative care and hospice? What does a death due to dementia look like? How can we provide comfort, dignity, and quality of life for our loved ones and for ourselves?  Ample time for your questions will be built into this seminar about a difficult but hugely important topic.
2019 Series
February 7: Meaningful Activities to Engage Your Loved One (Rachel Wiley, OT — Day by Day Home Therapy)
March 14: Bathing, Grooming, Dressing, and Other Activities of Daily Living (Rachel Wiley, OT — Day by Day Home Therapy)
April 18: When, Why, and How to Move to a Memory Care Facility (Sharon Buckmaster, PhD — Future Works Consulting, LLC)
May 16: Elder Care Issues and the Law (Jerry Rothkoff, Esq. — Rothkoff Elder Care)
June 20: Hospice and Palliative Care (Penn Care at Home)