Penn Memory Center's May Memory Café will feature music students from the Curtis Institute of Music. Join the Penn Memory Center in welcoming them on:
Friday, May 4 | 10:30 a.m. to noon
Christ Church Neighborhood House
20 N. American Street
Philadelphia, PA 19106
To RSVP, contact Alison Lynn at 215-360-0257 or alison.lynn@uphs.upenn.edu.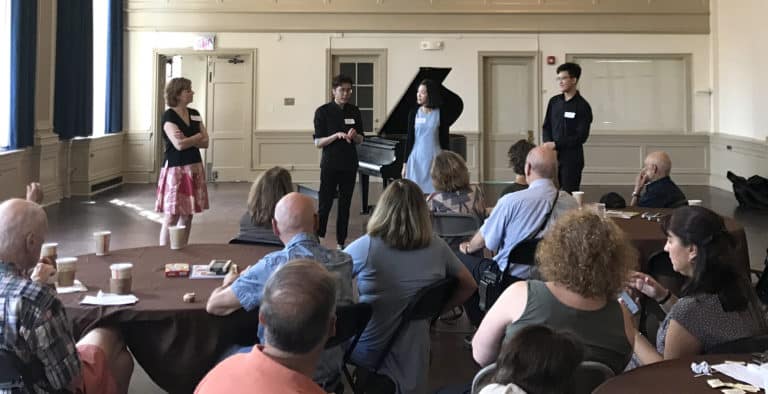 Curtis Institute of Music students Ying Li, Jiacheng Xiong, and Bolai Cao answer questions from the audience at October's Memory Café.
The Curtis Institute of Music is a conservatory in Center City, Philadelphia that educates gifted students from all around the world in the study of music. The Curtis Institute's aim is to train their students, selected on the basis of their talent and artistic promise, to be world performers and musical leaders who will make a profound impact within their local and global communities. Penn Memory Center and the Curtis Institute have worked closely together in the past to bring classical music to the homes of patients with memory problems and their families, and students from the Curtis Institute have also performed for the Penn Memory Center at past Memory Cafés and Caregiver Retreats. Penn Memory Center is proud to be welcoming back these talented young musicians from Curtis at the upcoming May Memory Café.