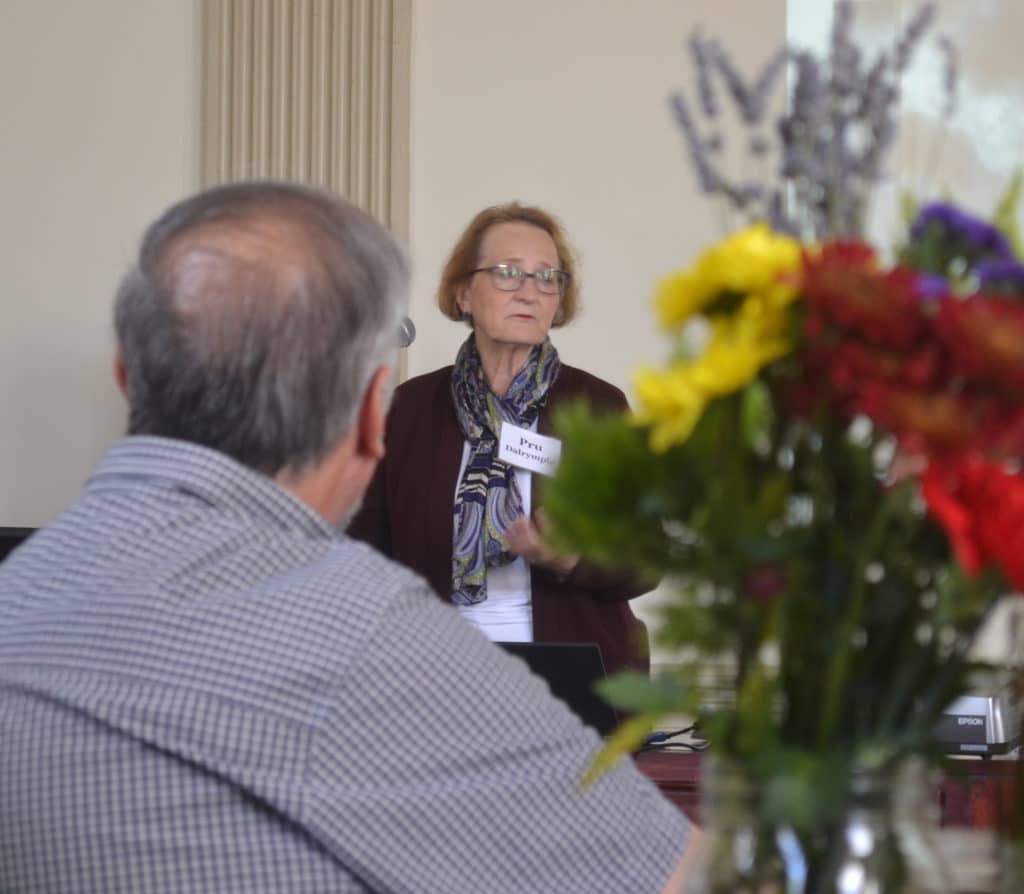 by Joyce Lee
At the inaugural Caregiver Retreat hosted by the Penn Memory Center late last year, caregivers were encouraged to decompress and "take a break."
An agenda filled with speakers, pet therapy, massages, journaling, clay workshops, and yoga gave caregivers an opportunity to take time for themselves, after having invested so much of their time, energy, and attention into the care of a loved one.
Kicking off the agenda was keynote speaker Prudence Dalrymple, who talked about her journey caring for her husband, Tom. Tom was diagnosed with Alzheimer's disease in 2009, and Dalrymple recounted the story of how she joined a PMC support group shortly after.
She explained how she tried to come to terms with her husband's gradual cognitive decline, how she leaned on her close friends during the caregiving process, and how she slowly learned to take time to care for herself and explore new activities after her caregiving journey ended when he passed away in 2014.
Dalrymple also mentioned that her original PMC support group have kept in touch, with a few of them sitting in the audience. She emphasized the importance of having that support network into, through, and beyond Alzheimer's. "Where many have gone before, no one need be alone," she said.
A rich spread of assorted sandwiches, salads, and soups was served for lunch immediately after, followed by elegant piano performances from Curtis Institute of Music undergraduate students Ying Li and Bolai Cao as guests enjoyed pumpkin cheesecakes and cups of coffee.
In the journaling workshop, David Marchino from the Kelly Writers' House at the University of Pennsylvania asked caregivers to take a moment for a writing exercise called "I Remember," in which they reflected on the memories that led up to the retreat today. Caregivers took a moment to scribble down their thoughts, and some stood up to share them with the group.
"I remember receiving the invitation in the mail," one caregiver said. "I remember wondering if I could go…I remember my daughter saying: you have to go."
A lively discussion on the positive benefits of journaling, and of ways to keep it a regular practice, also emerged from the workshop. Marchino mentioned the potential resources available – for example, community writing projects – at the Kelly Writers' House for caregivers.
Throughout the day, there were opportunities to interact with trained therapy dogs Papagana and Linus, who were at the site for stress relief. Accompanied by their "humans" Fred Wolfe and Christina Bach, the pair of dogs made their rounds in the room and sat very docilely as caregivers talked to and embraced them.
Chair massages were also available along with pet therapy. For ten-minute appointments at a time, caregivers could choose to have tired muscles massaged under the gentle hands of those at Spa Flow.
The yoga session in the middle of the day was clearly the highlight for some: one caregiver even specifically brought a yoga mat to the retreat for the occasion. Together with Juli Fussell of Mindful Elephant Yoga Studio, caregivers were guided through simple poses designed to decompress and relax in an hour-long Gentle Yoga class.
As yoga with Fussell was taking place downstairs, Mara Wai of the Penn Program for Mindfulness led another group of caregivers through an hour-long guided meditation practice designed for relaxation and decompression.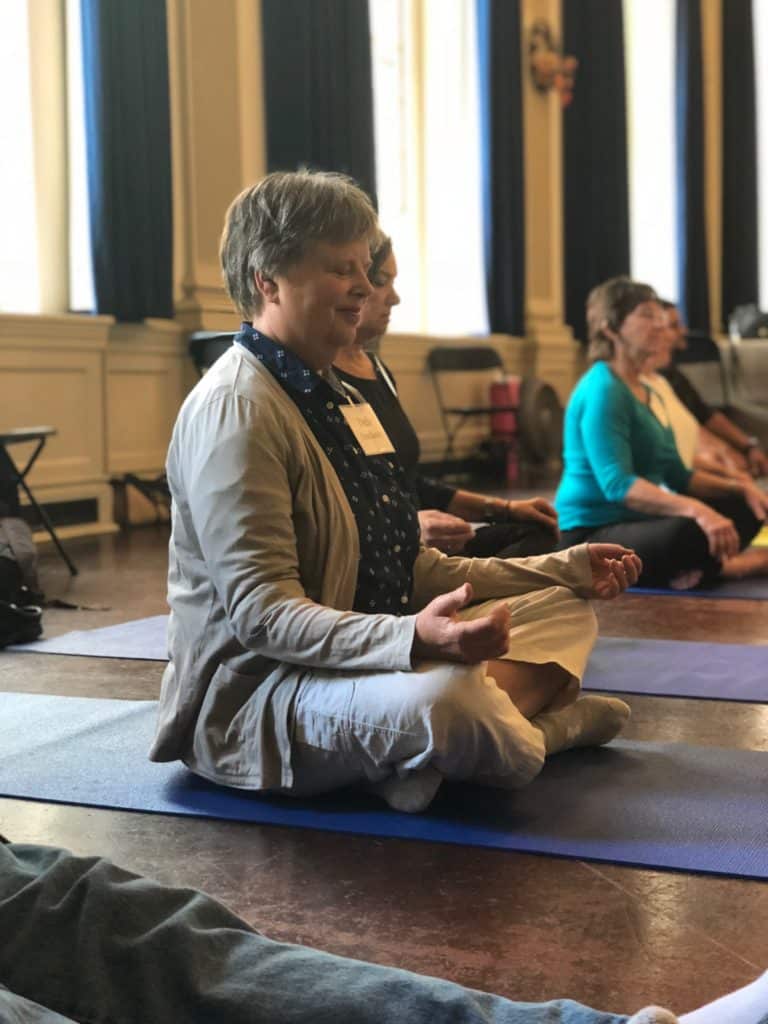 Immensely popular at the retreat was the clay workshop hosted by Mia DeCrescenzo and Nitza Rosario of The Clay Studio, when caregivers could get hands-on and draw on their artistry and creativity. Caregivers were given balls of clay and taught how to knead, mold, and shape them into the form of pumpkins for use as paperweights, candleholders, and decorations. After a layer (or three) of orange, green, and brown glaze, the lumps of clay began to look more and more like the pumpkins they were meant to be. The clay pumpkins were then collected to be fired and picked up after the retreat.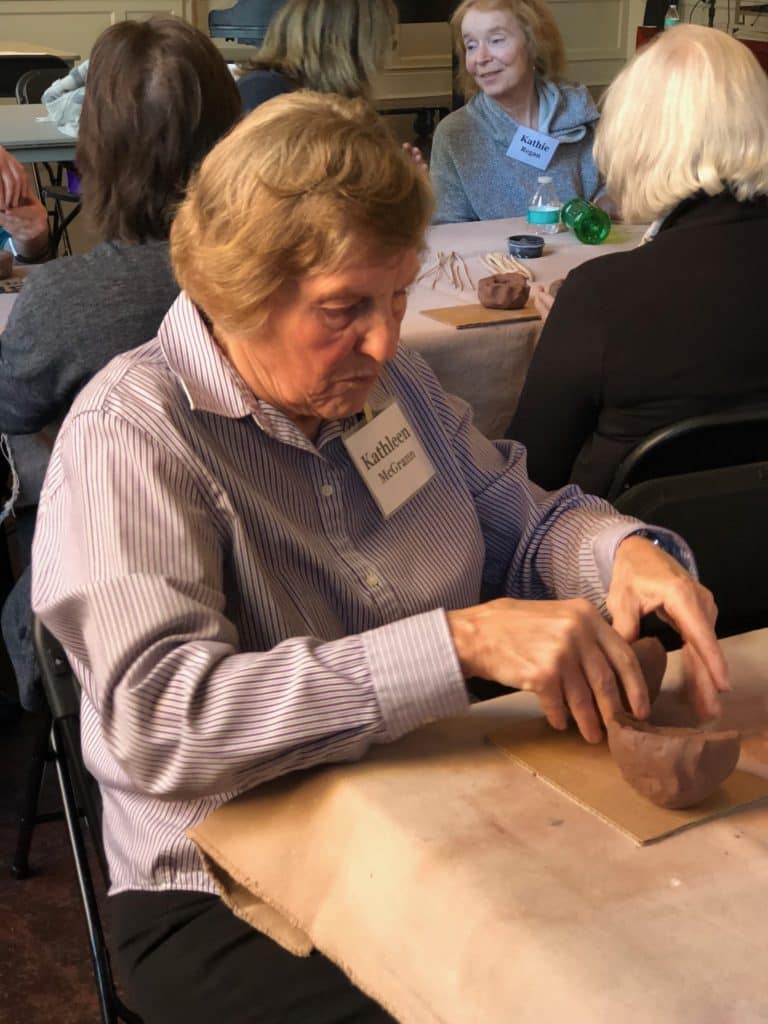 Happy Hour Social came at the heels of the clay workshop, giving caregivers an opportunity to socialize and talk freely over cocktails or juices. It marked an end to a long but enjoyable day of engaging activities, abundant food, and good company. On the way out, caregivers made sure to take with them party favors: unscented candles neatly presented in little purple bags.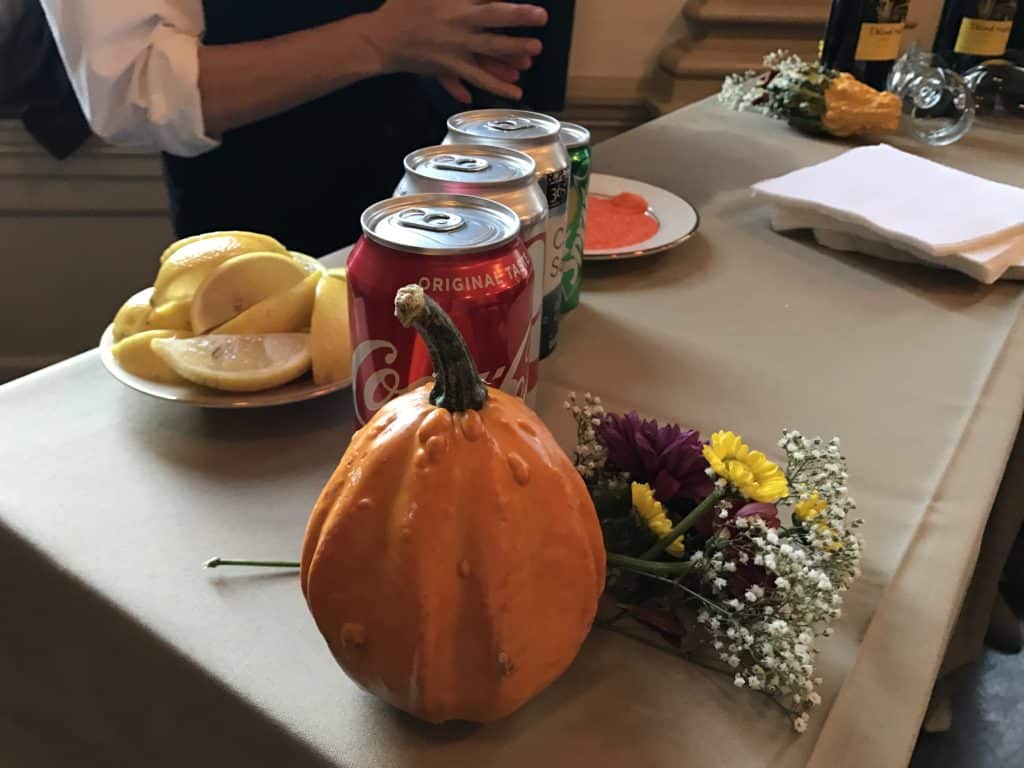 The PMC Caregiver Retreat took place at Christ Church Neighborhood House in Old City in November and was sponsored by Atria Senior Living Center City and Christ Church Neighborhood House.