By Cait Kearney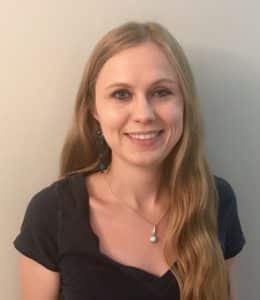 Melissa Johnston Esparza is moving on from the Penn Memory Center (PMC) after three years as a clinical research coordinator.  
"PMC is a wonderful organization, and having been a part of helping advance its mission has been a rewarding experience I will cherish forever," Johnston Esparza said.  
Johnston Esparza joined PMC as a clinical research coordinator for the REVEAL-SCAN Study (Risk Evaluation and Education of Alzheimer's Disease: The Study of Communicating Amyloid Neuroimaging), a project investigating the impact of learning one's personal risk of having Alzheimer's disease on thinking and health behaviors. 
"Melissa is a stellar coordinator. She stepped into a study that was in distress and quickly turned it around and into a great scientific success," said Jason Karlawish, MD, co-director of PMC and co-principal investigator of the REVEAL-SCAN Study. 
The REVEAL-SCAN Study wrapped up at the end of 2020, and Johnston Esparza transitioned to coordinating two new studies, AHEAD (A3-45) and TRC-PAD (Trial Ready Cohort for the Prevention of Alzheimer's Dementia).  
"Taking on a new study — let alone two — is a unique challenge, but Melissa rose to the occasion and exceeded our highest expectations," said PMC Executive Director Felicia Greenfield, MSW, LCSW. 
Johnston Esparza cherished her trusting relationships with participants. Although the REVEAL-SCAN Study ended months ago, participants who were a part of the study continue to reach out to her for advice or just to say hi.  
"It's nice to know they trust me so much that they'll reach out to me now," Johnston Esparza said. "I really love working with and building relationships with these individuals." 
In October, Johnston Esparza will conclude a master's degree program of gerontology at University of North Carolina Greensboro. She completed her program's field experience at PMC, in which she developed a Healthy Aging Lecture Series. The Series will be available to the PMC community this fall. This work closely aligns with her career aspirations of becoming a director of programs and classes for an older adult care facility.   
"We have a large and growing older adult population," Johnston Esparza said. "We have to make sure we provide the resources and support needed for them to enjoy their final years." 
Now, Johnston Esparza is a research project manager at the Penn Epilepsy Center in the Department of Neurology at the Perelman School of Medicine.  
"I was fortunate to have someone so dedicated to our mission at the Penn Memory Center," said Martha Combs, MS, research project manager. "I am grateful for her contributions to the success of the research."