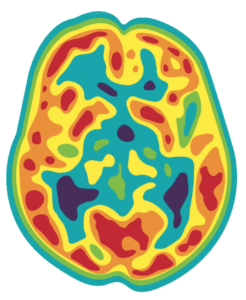 REVEAL-SCAN is no longer recruiting.
Alzheimer's disease (AD) clinical trials have traditionally tested individuals with symptoms of dementia, but the discovery of AD biomarkers has dramatically altered this approach. New studies are enrolling participants who are cognitively unimpaired but have biomarkers suggestive of "preclinical AD" with the hopes of delaying the onset of cognitive impairment. Of critical importance is whether individuals' knowledge of their biomarker status biases cognitive outcomes. If simply learning that one is biomarker positive causes a person to perform worse on cognitive testing, then primary outcome data of AD trials may not be valid. Additionally, there are questions about whether people change their behaviors after learning their biomarker status and whether providing the information causes psychological and social harm.
To answer these questions, P3MB investigators are working with collaborators to conduct the REVEAL-SCAN (Risk Evaluation and Education of Alzheimer's Disease: The Study of Communicating Amyloid Neuroimaging) Study. This is the first multi-site randomized clinical trial to examine the impact of learning amyloid imaging results in cognitively unimpaired individuals. REVEAL SCAN enrolled up to 370 cognitively unimpaired individuals between the ages of 65 and 80 across 4 sites (Penn, Brigham and Women's Hospital, University of Michigan, and Duke). Participants are randomized to one of two groups. One group receives their amyloid scan results a few weeks after their scan, the other group does not receive the results at this time. However, all groups receive a personalized risk of developing Alzheimer's disease by age 85 based on age, race, sex, and family history of Alzheimer's disease. Participants are then followed for a period of six months. Those who did not receive their scan result previously have the option of receiving this information after the six-month procedures are complete.
The aims of REVEAL-SCAN are to determine whether disclosure of elevated brain amyloid will bias cognitive test scores; to determine whether disclosure of elevated brain amyloid will cause psychological distress; and to explore how learning amyloid imaging disclosure will impact preventative health behaviors, advance planning for health and well-being.
REVEAL-SCAN is no longer recruiting. For more information, contact Melissa Esparza at 215-882-4421 or melissa.esparza@uphs.upenn.edu.