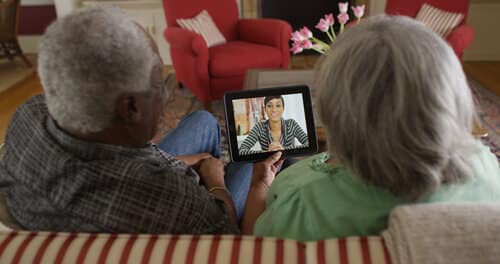 By Danny Yarnall
Pamela Bryan could tell her husband David was struggling. Social-distancing restrictions shrunk their world to their East Oak Lane home and David, who lives with Mild Cognitive Impairment, started faltering in his memory more than usual.
"I noticed a decline," she said. "There were changes in his forgetfulness, like where he was, and I'd have to remind him that this was our house."
Isolation has left many caregivers feeling overwhelmed by constant care and presence with their loved ones, with fewer options to find relief and time to themselves. Some people living with dementia are more vulnerable to confusion and decline as routines they grounded themselves in are disrupted. One pilot program from Penn Memory Center and Temple University is adapting to meet caregivers' needs both now and in the future.
Once a resource for caregivers and their loved ones to receive in-home respite care and engagement, Time Out Respite Care is pivoting to an online pilot program called Time Out Weekly Smile.
Time Out is an ongoing collaboration between Temple University and the University of Pennsylvania to bring relief to Philadelphia-area caregivers. Since its inception in 2019, it has matched caregivers with paid, trained student respite workers who would visit the caregiver's home to look after a loved one living with dementia for a few hours at a time. Now, retooled for current public health safety guidelines, Time Out Weekly Smile looks to extend that relief from student volunteers into caregivers' homes remotely.
"The mechanics may differ, but the mission is the same as our in-person program: offering respite care and reducing isolation for our families," said Meg Kalafsky, Penn Memory Center's program coordinator for Time Out.
The program's virtual iteration will have some differences. Student volunteers will only be able to spend 30 to 60 minutes with each family, but phone call and videochatting options allow TimeOut to cast a wider net across the Philly area. Previously, students were somewhat limited on where they could participate based on the proximity of caregivers to their respective universities.
Weekly Smile will also be completely free to caregivers as students are volunteers in the program, allowing more families access to respite care, Kalafsky said.
This access can be especially important to people who haven't had access to respite care before.
Heather Staller was planning a surprise birthday party for her mother, Ellen, when Ellen fell and broke her hip in early February. She fell again two months later and suffered a brain bleed. Heather has been staying with her mother since the second fall and as the physical-distancing restrictions wore on, she felt near her breaking point.
"I was experiencing caregiver burnout. More just fell on my shoulders," Staller said.
It didn't help that many of their social interactions revolved around the physical therapy aides and a nurse who would visit Ellen. On top of that, she only feels comfortable leaving her mother alone for about an hour to go get groceries or medicine. While Staller already dedicated much of her time to caring for her mother before the pandemic, often spending the night at her mother's place, it has become a 24/7 job in recent months.
To Staller, any time that her mother can interact outside of a world of hospitals and nurses and aides is a positive.
"I hope with Weekly Smile she'll want to do more," she said. "I think she's getting bored and tired of me."
The Bryans were able to receive care from the Time Out program for a few months before COVID-19 restrictions began. Bryan noted that while the respite is shorter now, she appreciates the social interaction for David.
"I think he gets lost in his head sometimes. It has an isolating effect," she said.
David loves to talk and play games but needs a push to attempt creative passions he held before his diagnosis like playing guitar and drawing, she said.
"He can still do it…he just needs that encouragement and for someone else to do it with him," she said.
Access and interaction are key aspects of Weekly Smile says Temple's Time Out Program Coordinator, JT Kendall. Lockdown restrictions, while necessary public health measures, put unique stress of prolonged isolation on not just individuals living with dementia and older adults, but young people and caregivers as well. And research suggests that can have negative effects on mental and physical health specifically in older adults.
A January study from The Danish National Institute of Public Health surveyed more than 3,000 adults ages 57-85 and found increased social disconnectedness led to higher perceived isolation which had a positive correlation in symptoms of depression and anxiety. University of Georgia researchers saw adults over 60 who were described as "chronically lonely" (those who reported loneliness both at the beginning of the study and four years later) saw an increase in physician visits. Companionship and social interaction could be a legitimate health intervention rather than just a fun way to pass the time.
"This isn't just as a way for someone to have someone else to talk to, but this can actually improve health outcomes," Kendall said.
Bryan noticed her husband's demeanor improve after their doctor agreed they could open up his social circle, have friends visit, and begin attending physical therapy.
He showed "more smiles, a sense of connection…a purpose" once he was able to interact with others, Bryan said.
Time Out Weekly Smile hopes to add to the virtual social circles of older adults living with dementia. But to shape an idea of what families need from virtual respite care, Kalafsky and Kendall sought input from Time Out's advisory council, made up of Penn and Temple students and Philadelphia-area caregivers like Bryan and Staller.
Bryan joined the Advisory Council as a way to give back and help a community she became a part of through PMC's social programs like Caregiver Forums and Creative Expressions through Music. Staller hopes that the program can help others in similar situations to hers and appreciates being able to enter the community of caregivers and their loved ones.
"By helping others it helps take my mind off of what I have going on," Staller said.
The advisory council devised a set of activities split into two categories: 'Sharing Talents' and 'Sharing Experiences.' 'Sharing Talents' involves a volunteer doing an activity — like playing an instrument, painting or drawing in real-time, or reading aloud — while the older adult watches and enjoys. "Sharing Experiences" meanwhile has the volunteer and older adult work on a shared activity like exchanging life stories and advice, creating artwork, or asking a "beautiful question" from TimeSlips' creative care program.
Kalafsky hopes offering a variety of ways to get involved combined with the flexibility of a virtual platform can help bridge perspectives among generations and foster social connection in a time of great stress and uncertainty.
"We're watching everything that's happening right now," Kalafsky said. "And we see the importance of getting to know one another and our commonalities."
While the pilot program is in its early stages of organizing, Kalafsky and Kendall would like to continue Weekly Smile even once in-person respite care can resume once public health guidance allows. The benefits of remote care can fill gaps the original Time Out program couldn't reach.
"Some of our caregivers don't live close to the students, some are immunocompromised, and even some students aren't able to meet the larger time commitment of the in-person program," Kendall said. "I'm hopeful these two can exist side by side."
Bryan sees Weekly Smile as something to look forward to in the stretch between her husband's twice-weekly physical therapy sessions and visits from friends.
"It's a bright spot in the week," she said.
Caregivers and their loved ones can complete this form to get matched with a volunteer. Prospective student volunteers from Philadelphia-area universities can fill out the form here to get signed up with the program.
In part of an ongoing commitment to the needs of its audience, Time Out recently launched a website to serve as a hub of information for caregivers, volunteers, or anyone interested in finding out more about Time Out's programs.