By Cait Kearney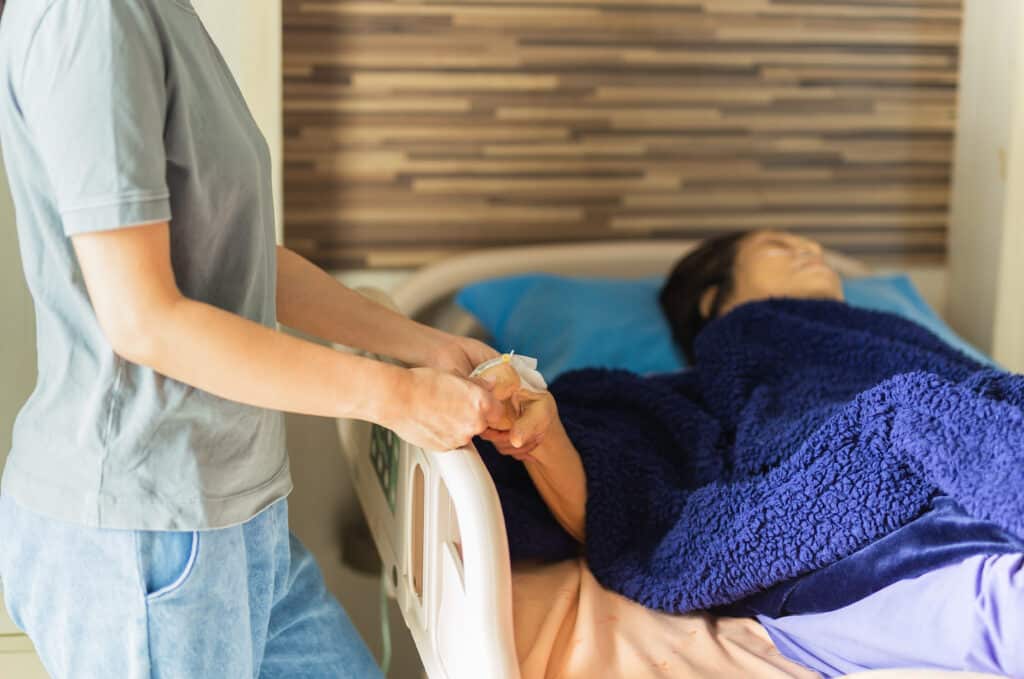 In 2013, Sarah was diagnosed with dementia caused by Alzheimer's disease. In the years to follow, Sarah's communication skills declined, and she stopped interacting with people. Occasionally, when looking at her image in the mirror, she would mumble a few incomprehensible sounds, but otherwise she didn't speak.
Twice, Sarah did something that startled her family — she suddenly began saying words that were recognizable. She clearly said to her husband, on two occasions, "I'm scared. I want you to come with me."
Shaken by the experience, he sought advice from Sarah's physician.
These moments of sudden, clear communication in someone with progressive neurodegenerative disease, like those detailed by Sarah's family, are episodes of what researchers call "paradoxical lucidity."
"A person seems to be lost to their disease, but then there's this unexpected and fleeting spark of clarity," said Andrew Peterson, PhD, MA, a philosopher for the Penn Program on Precision Medicine for the Brain (P3MB) who studies paradoxical lucidity. "It could transform the way we think about dementia."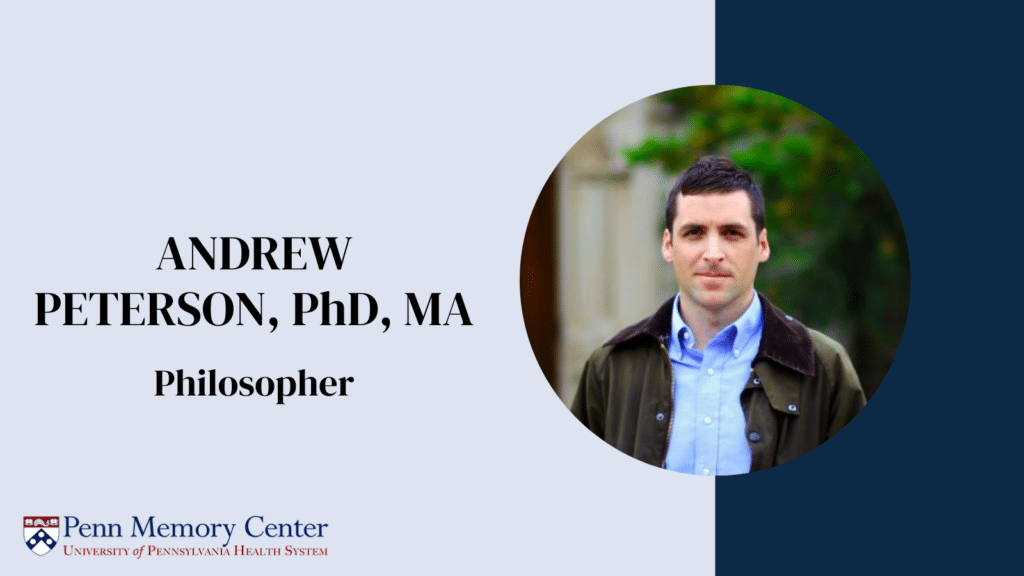 Paradoxical lucidity seems to be, as its name suggests, a paradox. How can a person living with advanced dementia abruptly communicate in a clear manner? Many wonder what mechanism underlies this phenomenon and if it might be a key to mitigating—or even reversing—neurodegeneration. It's also a mystery whether people who exhibit these episodes are aware when they happen, and how that might affect dementia care.
Dr. Peterson said these pressing questions cannot be accurately addressed by scientists until a definition is established—a main point of Dr. Peterson and his P3MB colleagues' recent article "What is paradoxical lucidity? The answer begins with its definition" published in the March 2022 issue of Alzheimer's & Dementia. Dr. Peterson explained that the paper establishes a framework for future research.
"It's not as simple as putting someone in a brain scanner or video recording someone having a moment of paradoxical lucidity. Researchers still haven't come to a consensus as to what the behavior looks like." said Dr. Peterson. "We need a good clinical characterization of the behavior before we can examine what's happening in the brain."
Because paradoxical lucidity is a relatively new area of research, scientists do not have a precise estimate of how frequently it occurs in persons living with dementia. Penn Memory Center Co-Director Jason Karlawish, MD, who leads P3MB, said he suspects episodes of paradoxical lucidity are fairly common.
"Most, if not all, clinicians have heard stories of events of paradoxical lucidity," said Dr. Karlawish.
Drs. Karlawish and Peterson are currently leading an NIA-funded study to better understand paradoxical lucidity's clinical characterization. They want to discover how witnessing an episode of paradoxical lucidity impacts family caregivers. They have observed a range of participant reactions through interviews thus far.
Some participants in the study have described curiosity about their loved one's episode, wondering what caused it or if it really happened. Others have described feeling sadness and regret. One participant, Dr. Peterson recalled, even compared the feeling of witnessing paradoxical lucidity to "stabs in her heart," reminding her that the person whom she loved was gone.
Clinicians often do not know how to talk about paradoxical lucidity with caregivers – one of the reasons why studying paradoxical lucidity is so important.
"In the ideal circumstance, a physician would be there to help a caregiver make sense of paradoxical lucidity. But clinicians are also in the dark. They too are trying to understand its clinical significance," said Dr. Peterson.
Dr. Peterson's research with P3MB also centers on the ethics of traumatic brain injury and addressing questions about human consciousness. It wasn't until Dr. Karlawish invited Dr. Peterson to attend a paradoxical lucidity workshop for researchers that Dr. Peterson was introduced to the phenomenon.
"This is about the mind and mind perception and how our interpretations of another person's mind impact the way we think about persons with disabling cognitive impairments and also how we ought to treat them. The more I pondered these topics, the more it was obvious. A philosopher needs to be in the room, and Andrew was the one," said Dr. Karlawish.
Dr. Peterson was struck by the overlap between his previous work on traumatic brain injury and the burgeoning research of paradoxical lucidity.
"The experience of caregivers of persons living with dementia who witness paradox lucidity is similar to families of unconscious brain injury patients" said Dr. Peterson. "In both cases, families are struggling with uncertainty. An unexpected change in a patient's behavior can lead families to think their loved one is still 'in there'. That can impact the grieving process and change how they understand the disease."
As a philosopher, Dr. Peterson says forging the frontier of research on paradoxical lucidity is "one of those critical instances" where philosophy and science can work hand in hand.
"This is exactly where philosophers can do critical work on foundational concepts to help push the science forward," said Dr. Peterson. "It's rewarding to stand shoulder to shoulder with my scientific colleagues as we explore this new territory together."
The scientific article referenced in this piece, "What is paradoxical lucidity? The answer begins with its definition" published in the March 2022 issue of Alzheimer's & Dementia, was authored by Andrew Peterson, Justin Clapp, Emily A. Largent, Kristin Harkins, Shana D. Stites, and Jason Karlawish.