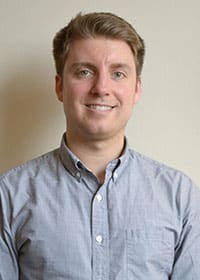 Please join us in saying farewell to Clinical Research Coordinator Joe Harrison, who has been at Penn Memory Center since 2016. Harrison will be moving to the Nudge Unit at Penn Medicine while continuing to pursue his Master's degree in Behavioral and Decision Sciences at Penn. At PMC, Harrison coordinated the REVEAL-SCAN study, which looks at the impact of amyloid PET scan results and personalized risk assessments of developing Alzheimer's disease on individuals' health behaviors and habits over time.
Harrison also worked with the NACC study, which follows participants with mild cognitive impairment, Alzheimer's disease dementia or related dementia, and normal cognition longitudinally and tracks brain imaging and biomarker data to better understand links between clinical evaluation and brain changes associated with Alzheimer's disease and related dementia.
REVEAL-SCAN study responsibilities will be covered by Clinical Research Coordinator Grace Stockbower and Research Coordinator Benjamin Bear. NACC study responsibilities will be covered by Research Specialist Jacqueline Lane and new Clinical Research Coordinator Matthew Ferrara.