By Cait Kearney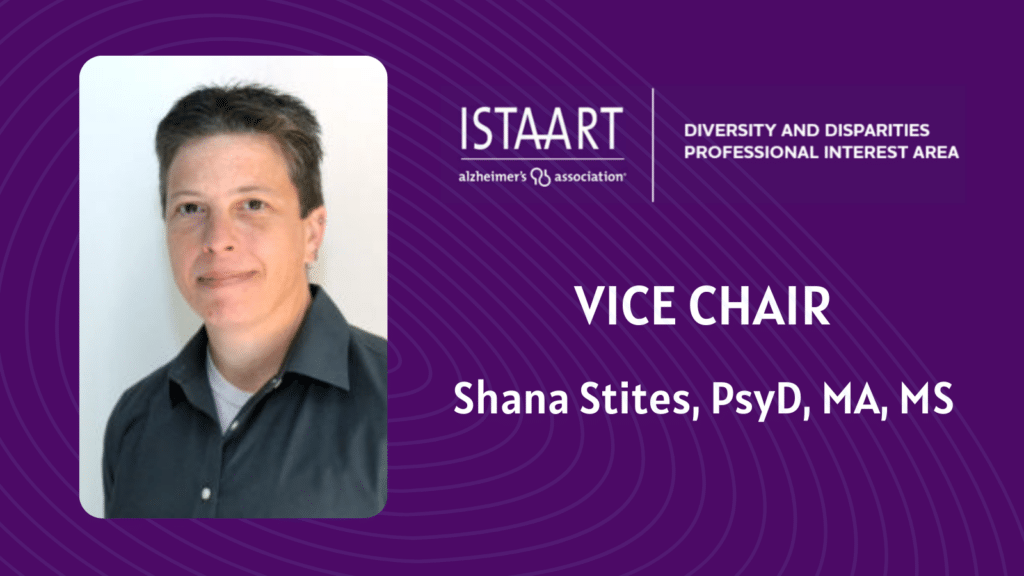 Penn Memory Center (PMC) researcher Shana Stites, PsyD, MA, MS, was elected Vice Chair of the Alzheimer's Association ISTAART Diversity and Disparities Professional Interest Area (PIA).
"I am honored and excited to be voted in as the PIA's Vice Chair for the upcoming term," said Dr. Stites.
The Diversity and Disparities PIA is made up of 400 students and researchers from around the world. The group works to identify differences in diagnosis and intervention for people of diverse backgrounds who are living with Alzheimer's disease and Alzheimer's disease related dementias (AD/ADRD).
Dr. Stites said a key part of this work is finding disparities in AD/ADRD research. Identifying disparities in research first can prevent disparities in clinical care in the future.
"The work I engage in for the Diversity and Disparities PIA helps to advance the field by identifying and framing issues of disparities in AD/ADRD research as addressable problems and rallying resources to address them," said Dr. Stites.
Dr. Stites joined the Diversity and Disparities PIA around the time of its founding in 2017. For two years, she served as the Programs Chair. She also co-founded and co-chairs the Diversity and Disparities PIA LBGTQIA+ special interest group.
Being involved in the Diversity and Disparities PIA has informed the research Dr. Stites conducts as part of the Penn Program on Precision Medicine for the Brain (P3MB). She said it has introduced her to others working on social and structural determinants of AD/ADRD, helped her better understand the context of ADRD science, and has given her work a global workspace.
"This vibrant global community has taught me a lot about ADRD research and shown me many ways social and cultural factors shape it," said Dr. Stites.
Going forward, Dr. Stites will continue to advance the mission of the Diversity and Disparities PIA as Vice Chair and to build scholarship on addressing disparities in AD/ADRD science. This includes supporting efforts to develop diverse representation in AD/ADRD trials, research infrastructure in low and middle income countries, and expand what is known about diversity and disparities in ADRD research and care.