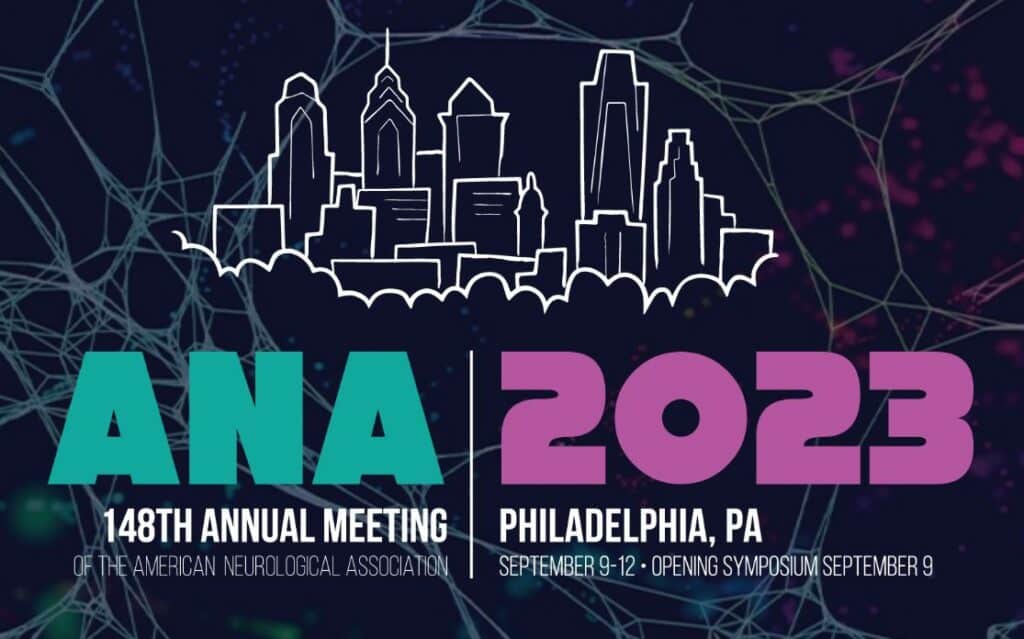 University of Pennsylvania clinicians and researchers who specialize in neurodegenerative diseases had a substantial presence at this year's American Neurological Association (ANA) Annual Meeting, which took place September 9-12, in Philadelphia, PA.
Roy Hamilton, MD, MS, FANA, professor and vice chair for Inclusion and Diversity in the Department of Neurology at the University of Pennsylvania, received the Audrey S. Penn Lectureship Award for his work promoting health equity in the field of neurology.
Three UPenn researchers, Defne Amado, MD, PhD; George Kannarkat, MD, PhD; and Daniel T Ohm, PhD; were recognized as ANA Emerging Scholar Speakers, early-career researchers who are conducting cutting-edge science.
Audrey S. Penn Lectureship – From agnosia to action: Moving toward diversity, inclusion, and equity in neurology
Award Recipient: Roy Hamilton
Penn Memory Center (PMC) neurologist Roy Hamilton MD, MS, FANA, was awarded the Audrey S. Penn Lectureship — an accolade given to an ANA member "who conducts outstanding research, program-building, or educational scholarship to promote health equity."
Dr. Hamilton is vice chair for inclusion and diversity in the UPenn Department of Neurology and developed the department's Inclusion, Diversity, Anti-Racism, and Equity (IDARE) program, which works to promote equity in the department and to foster trusting relationships with historically disadvantaged groups from the local community.
"Organizations and teams that are more diverse have an easier time recognizing when bias and discrimination are being perpetrated," said Dr. Hamilton.
While serious neurological disorders such as Alzheimer's disease and strokes disproportionately impact marginalized groups, these people are underserved in neurology and more likely to receive biased treatment. In his lecture, Dr. Hamilton discussed how adopting diversity as a core value in neurology through leadership roles and pipeline programs can combat these disparities.
Pharmacological management of psychosis in LBD
Speaker and Chair of Psychosis in Parkinson's Disease Session: Daniel Weintraub
Psychosis in Lewy body disorders (LBD), such as Parkinson's disease (PD) or dementia with Lewy bodies (DLB), is common over time and is associated with worse outcomes and often requires treatment.
Daniel Weintraub, MD, an assistant professor of psychiatry at the University of Pennsylvania and a geriatric psychiatrist, talked about pharmacological management of psychosis in LBD.
"Psychosis in Lewy body disorders is common, often problematic, and difficult to manage, requiring a careful consideration of the relative benefits and risks of various management strategies," said Dr. Weintraub.
What are the broader implications of diagnosing preclinical disease?
Speaker: Emily Largent
Although preclinical testing does not yet exist for Alzheimer's disease, more accessible biomarker testing for Alzheimer's may mean that preclinical diagnoses will become available in the near future.
Emily Largent JD, PhD, RN, assistant professor of medical ethics and health policy at the University of Pennsylvania, presented on the broader implications of these early diagnoses. In addition to the ethical and legal challenges they will present, Dr. Largent also discussed how preclinical diagnoses may impact Alzheimer's patients and their families.
"Earlier diagnosis of Alzheimer's disease will mean that patients are able to be connected with care and supports sooner," Largent said. "This is particularly important in light of the FDA's recent approval of disease-modifying therapies for Alzheimer's disease.  At the same time, we know that this is sensitive information for individuals and their families."
Plasma-derived alpha-synuclein strains distinguish Parkinson's disease from dementia with Lewy bodies
Emerging Scholar Speaker: George Kannarkat
George Kannarkat, MD, PhD is a physician-scientist at the University of Pennsylvania. His talk focused on plasma-derived alpha-synuclein strains that distinguish Parkinson's disease (PD) from dementia with Lewy bodies (DLB).
The forms of alpha-synuclein identified by the antibodies in Dr. Kannarkat's work — which were generated at Penn's Center for Neurodegenerative Disease Research (CNDR) by Drs. Virginia Lee and Kelvin Luke — are readily detected in blood but not cerebrospinal fluid. The antibodies not only differentiate blood from people with PD from those with DLB, but they can predict cognitive trajectory in Parkinson's. To date, no biomarkers exist to differentiate these two diseases.
"Ultimately, understanding where these alpha-synuclein forms come from and how they form could be the key to finally answering the questions of when, how, and where pathology in Parkinson's disease starts," said Dr. Kannarkat.
Pyramidal neurodegeneration is linked to select cytoarchitecture and cognitive impairment in behavioral variant frontotemporal dementia with tau or TDP-43 pathology
Emerging Scholar Speaker: Daniel Ohm
Daniel Ohm, PhD, a research associate at the Frontotemporal Degeneration (FTD) Center at the University of Pennsylvania, studies the vulnerability of select regions and cell types in the brain in relation to the proteins tau and TDP-43.
"Identifying the most vulnerable neurons and brain regions may inform new clinical tests and biomarkers critical for diagnosing patients earlier in their disease course when a therapeutic window is optimal," said Dr. Ohm.
One central problem to FTD care is that multiple different pathologies (i.e., tauopathies, TDP-43 proteinopathies) can cause clinical FTD syndromes, and we lack tests that can distinguish these different diseases, making pathologic diagnoses possible only at autopsy.
Detailed study of the brain, like Dr. Ohm's research, is critical to determine which brain cells are most affected by these different diseases to guide the development of biomarkers or new tests that can help us diagnose patients more rapidly, and ultimately develop new treatments that target pathology or specific cell types.
Improved survival, strength, and neuroinflammation in a mouse model of sporadic ALS after novel AAV-mediated delivery of RNAi targeting atxn2
Emerging Scholar Speaker: Defne Amado
Defne Amado, MD, PhD, and her team developed a viral gene therapy approach to treat amyotrophic lateral sclerosis (ALS) that, in a mouse model, prevented toxic protein aggregation, reduced neuroinflammation, improved strength, and prolonged life by 45%.
"These findings are exciting because they target a pathology associated with 97% of ALS cases," said Dr. Amado. "Furthermore, the potential to offer a targeted and lasting effect with a single treatment would be deeply impactful for the ALS community."
Dr. Amado specializes in the use of gene therapy for ALS, frontotemporal dementia (FTD), and spinocerebellar ataxia (SCA), both in terms of disease mechanism discovery and therapeutic development. Her lab is particularly interested in using advanced gene editing and gene modulation tools, coupled with novel CNS-targeting delivery methods including evolved AAV capsids, to uncover and treat novel therapeutic targets in ALS, FTD, and SCA pathogenesis using mouse and cell models of disease.