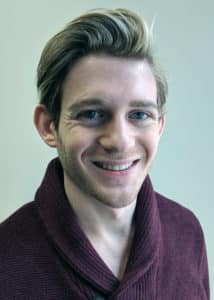 Penn Memory Center recently welcomed new Clinical Research Coordinator Matthew Ferrara, who will work on the ongoing National Alzheimer's Coordinating Center (NACC) study at PMC.
The NACC study is the National Institute on Aging-funded initiative that follows older adults with normal cognition, mild cognitive impairment (MCI) and mild to moderate Alzheimer's disease over time. Ferrara will help with scheduling and coordinating visits of research participants in the NACC cohort.
Matthew comes to PMC from the Center for Interdisciplinary Research on Nicotine Addiction, where he worked as a Clinical Research Assistant. Ferrara holds a bachelor's of science in neuropsychology from Penn State University and is pursuing a master's degree in Counseling and Mental Health Services at Penn. He hopes to earn a Ph.D. in clinical neuropsychology and work in the field of neurodegenerative diseases and traumatic brain injury in the future.