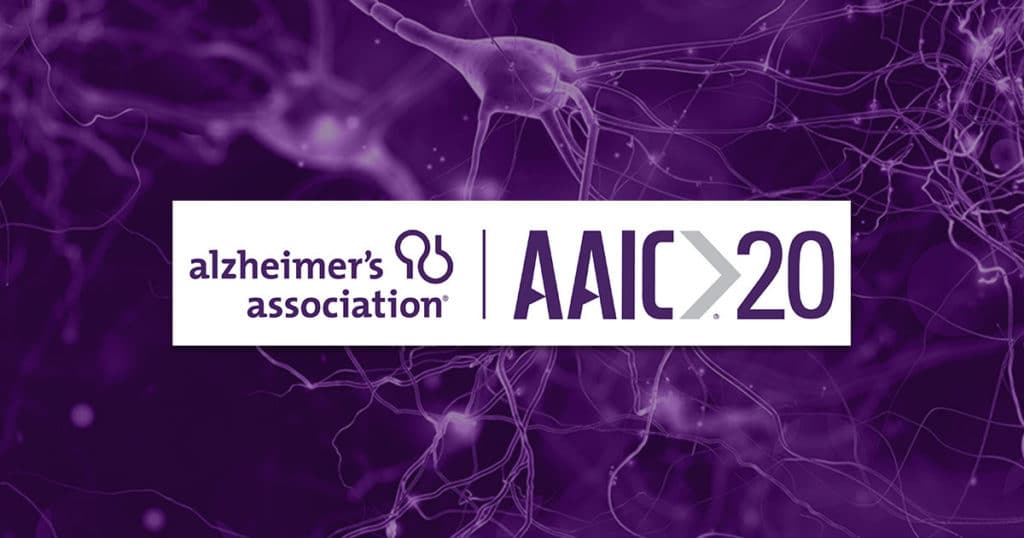 By Danny Yarnall
Researchers from the Penn Memory Center and around the world convened July 27-31 at the Alzheimer's Association International Conference (AAIC). Instead of meeting in a major metro, like previous host cities Chicago or Los Angeles, AAIC was held in a virtual, free, and public format.
All who registered have for the remainder of the month access to an on-demand library of presentations on topics ranging from dementia care biomarkers and machine learning. 
PMC was well-represented at the conference with 13 researchers presenting more than 30 abstracts, while also highlighting PMC research through lectures, posters, and discussion sessions.
PMC Co-Director David Wolk, MD, was co-author of 16 abstracts featuring PMC researchers this year, including his work on how predictive models could help researchers create more effective clinical trials.
Ideally, researchers want participants that experience some cognitive decline in the control arm of a study to test a drug's effectiveness properly, but that is not always the case. Up to 50 percent of participants in the control arm of clinical Alzheimer's studies experienced no decline. To counteract this, Dr. Wolk and co-authors investigated whether predictive models based on a previous large-scale drug study could potentially identify and then exclude participants from the control arm that would be likely not to experience any decline.
Co-Director Jason Karlawish, MD, took part in a symposium with IMPACT Collaboratory members on Embedded Pragmatic Clinical Trials (ePCTs) and how this specific kind of study can be used to improve dementia care. Drawing on research published earlier this year, Dr. Karlawish recommends researchers need to make ethical considerations and adjustments to the consent process when designing studies for persons living with dementia.
Emily Largent, JD, PhD, RN, highlighted preliminary findings from her Study Partner Availability Limitations Study (PALS). Persons looking to enroll in pre-clinical Alzheimer's disease research typically need a study partner — a family member or friend who can join them for study visits and provide valuable information for investigators. But some participants don't have a care-partner like people with Mild Cognitive Impairment (MCI) or dementia-level impairment do; this can make it harder for them to identify a study partner. Dr. Largent's work examined if study partner requirements prevent people from participating in these trials and what strategies could help make study partners available to those who don't already have one.
Other PMC Clark Scholars also had strong showings at AAIC. Shana Stites, PsyD, MA, MS, held poster sessions discussing her research on study partner relationships and what factors can help "make" a study partner.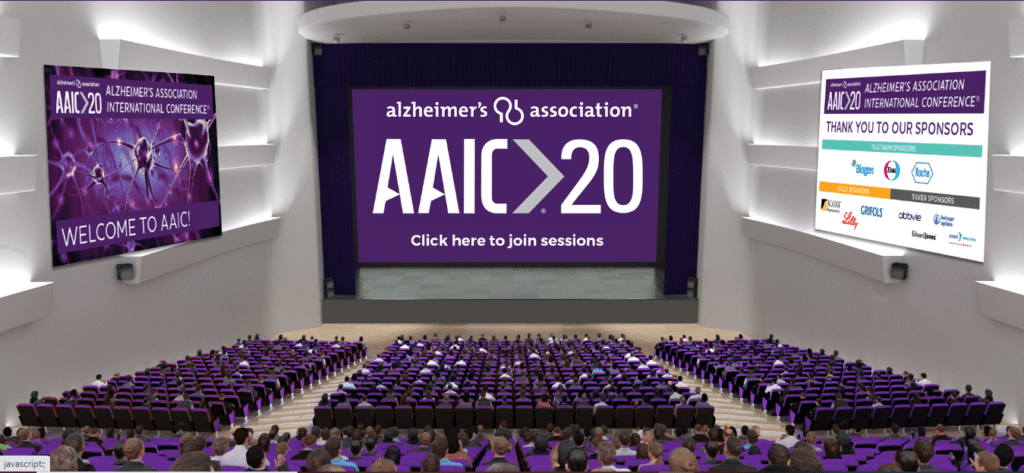 The newest addition to the Clark Scholars, Lasya Sreepada, featured research on how machine learning can help make more accurate predictions of Alzheimer's disease progression. Outgoing Clinical Fellow Lauren McCollum, MD, presented on how two MCI sub-types show differences in their progression. Dr. McCollum will take the next step in her career to the Pat Summitt Clinic at the University of Tennessee Medical Center – Knoxville later in August.
Dawn Mechanic-Hamilton, PhD, ABPP/CN, presented her findings on a mobile-app based memory task and its ability to detect changes in cognition over time. Dr. Mechanic-Hamilton is director of Cognitive Fitness Programs and Neuropsychological Services at PMC.
Other notable research at the conference included breakthroughs in blood-based biomarkers. Blood-based biomarkers for amyloid made news last year, but research on a new biomarker for a type of tau, p-tau217, was on display in 2020. This type of protein that accumulates in the blood showed promise as a more accurate way of identifying Alzheimer's, more closely related to Alzheimer's pathology, and potentially useful for identifying changes in cognition earlier than other biomarkers. 
Additional presentations focused on addressing health disparities in African-American and Hispanic/Latino populations as a result of heart conditions, diabetes, and high blood pressure. Evidence in support of receiving common vaccinations as a potential way to reduce Alzheimer's risk was also presented.
If you registered, you can find all these presentations and more through AAIC's website. Stay tuned with Penn Memory Center throughout the year as we continue to update you with our work and latest in Alzheimer's research.