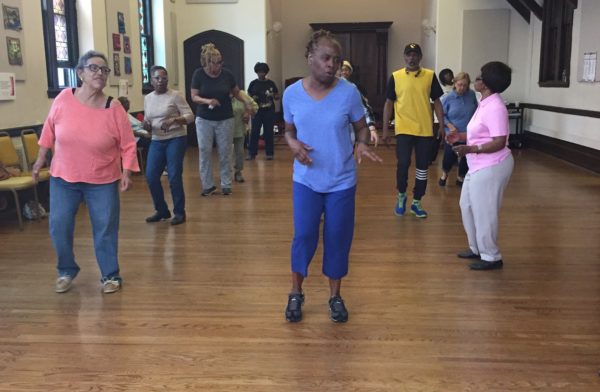 Join the Penn Memory Center this spring for Dance for Health: Active Body, Active Mind, a program in collaboration with the Ralston Center.
The goal of Dance for Health: Active Body, Active Mind is to promote brain health and intergenerational connectedness. Individuals will participate in a dance session once per week and an intergenerational activity with students from area high schools one per month. Participants will also complete surveys before and after the program.
Who: Open to individuals 55 years of age and older who are willing to participate in a weekly dance session for three months.
Time: 9:30 a.m. to 11 a.m.
Date: Every Saturday from February 24th to June 2nd* (excluding Memorial Day weekend)
Place: Ralston Center, 3615 Chestnut Street, Philadelphia
To join us, please register by February 22nd by contacting Karletta Poland at 215-573-6095 or karletta.poland@uphs.upenn.edu
Over the past five years, Dance for Health has brought together nearly 500 dancers since Dr. Terri Lipman of Penn Nursing launched the program. The Spring 2018 program at PMC will be led by PMC Coordinator for Multicultural Recruitment and Retention Karletta Poland and will focus on getting older adults to stay physically active and connected to the the West Philadelphia community.
The Dance for Health sessions will promote brain health through dance and intergenerational connections. Some of the most active areas of research in risk reduction and prevention of memory problems include exercising regularly, eating a healthy diet, and keeping socially and mentally engaged.
For more information, please visit the Dance for Health webpage.