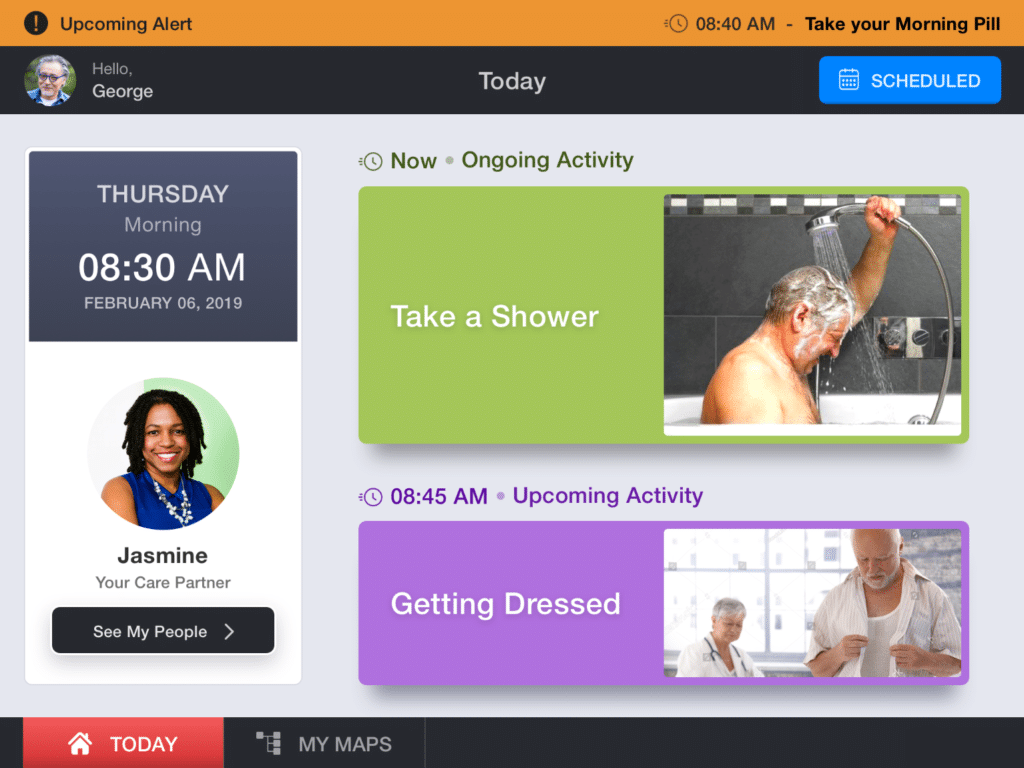 By Danny Yarnall
A contest from the National Institute on Aging (NIA) has pushed app creators to focus on ways technology can improve the care and management of Alzheimer's patients.
The Eureka Prize from the NIA awarded three teams on their efforts to create new apps and software designed to improve dementia care and care coordination. The contest, launched in 2018 to drive innovation in the dementia care space, fielded 33 applicants with submissions ranging from mobile apps to software platforms to pick the three winners to share $400,000 in prize money.
First prize winner, Atlanta-based task manager app, MapHabit, is developed for people with dementia and their caregivers by Stuart Zola, PhD, an Emory University neuroscientist, and his team Matt Golden, Sidney Law, MD, Jennifer Jin, and Yedarm Kim.
The app uses the brain's procedural memory, creating routines of activities of daily living, or ADLs, through picture and keyword "maps" to schedule and keep track of ADLs accomplished throughout the day. Procedural memory can stay untouched by dementia for longer than declarative memory, which is used for remembering dates or events. The app provides alerts for upcoming events and allows care partners to add tasks and watch the progress of the user.
The app "enables the world's memory-impaired individuals to accomplish their activities of daily living, while providing guidance and peace of mind to their caregivers and family members," according to the creators of MapHabit.
Second place winners, Lei Ditch, a technology director at Los Angeles software services company, Hi5LA, and Dr. David B. Reuben of UCLA's David Geffen School of Medicine sought to create a better way to integrate dementia care into existing electronic health records (EHRs). 
The pair developed the aptly named Dementia Care Software System, which merges the dementia patient care information such as appointment scheduling and communication with community organizations with existing EHRs allowing caregivers and medical professionals to personalize care plans for people with dementia.
Currently, the system is supporting the UCLA Alzheimer's and Dementia Care Program with over 2,600 users and 24/7 availability.
Third prize went to Caregiver411, an app from Kristen Naney, PhD, Center for Outreach in Alzheimer's, Aging and Community Health (COAACH) at North Carolina Agricultural and Technical State University and her colleagues Grace Byfield, PhD, Christopher Doss, PhD, and Janetta Brown.
Caregiver411 seeks to alleviate caregiver isolation and caregiver burden by providing guides, targeted information based on what stage of care the user is in, and opportunities to talk with caregiving experts in real-time through the app. There's also a private chatroom for family members and long-distance caregivers to stay informed about their loved one's care.