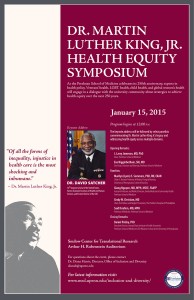 Please join the university community in commemorating Dr. Martin Luther King Jr.'s legacy on January 15, 2015 at noon in the Arthur H. Rubenstein Auditorium at the Smilow Center for Translational Research. This is the first in a series of talks celebrating the Perelman School of Medicine's 250th anniversary that will address disparities through dialogue, with the goal of achieving health equity for all in the next 250 years.
"Of all the forms of inequality, injustice in health care is the most shocking and inhumane." -Dr. Martin Luther King, Jr.
For more information, click here.