By Cait Kearney
Why does disease progress faster in some people than in others? Why do some individuals have a higher risk of developing Alzheimer's disease?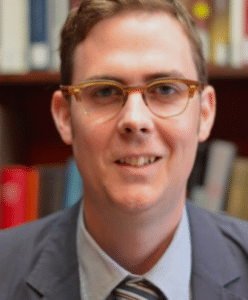 To answer questions like these, Corey McMillan, PhD, an affiliated researcher of the Penn Memory Center and associate professor of neurology at Penn's Perelman School of Medicine, is studying the diversity of the way neurodegenerative diseases, such as Alzheimer's disease, manifest and present themselves in people.  
This diversity is referred to as heterogeneity. If researchers can better understand why, for example, one patient begins demonstrating symptoms of Alzheimer's disease at the age of 65, but another patient begins demonstrating symptoms at the age of 85, then it may lead to more personalized treatments for individuals and improved clinical outcomes. 
Dr. McMillan studies the heterogeneity of neurodegenerative diseases by examining large sets of DNA samples.  
"DNA provides a very rich source of data," Dr. McMillan said. "By understanding the genetic factors that contribute to AD (Alzheimer's disease) and related disorders, we can identify potential pathways for the development of new candidate therapeutics." 
To donate a DNA sample, participants partake in an informed consent process followed by a standard blood draw. Identifying information, like names, are disassociated from the sample by researchers in order to minimize risks associated with identifying someone from their DNA. 
"There are several protections to ensure that individuals cannot be discriminated against based on genetic information," Dr. McMillan said.  
Dr. McMillan is looking forward to investigating age as a heterogeneous factor in the new year. Interestingly, there are two measurements of age that Dr. McMillan will be examining: biological age and chronological age. Biological age is how old your body seems based on various biomarkers—measurements that vary based on lifestyle and other health factors. Chronological age is the number of years you've been alive. 
"Using DNA and some advanced analytic methods we are now able to measure 'biological age' and contrast this with 'chronological age' to identify why some individuals may age faster or have higher AD (Alzheimer's disease) risk than other individuals," said Dr. McMillan. 
Click here to learn more about Dr. McMillan's work as Principal Investigator of the Penn Bioinformatics in Neurodegenerative Disease (BiND) Lab.