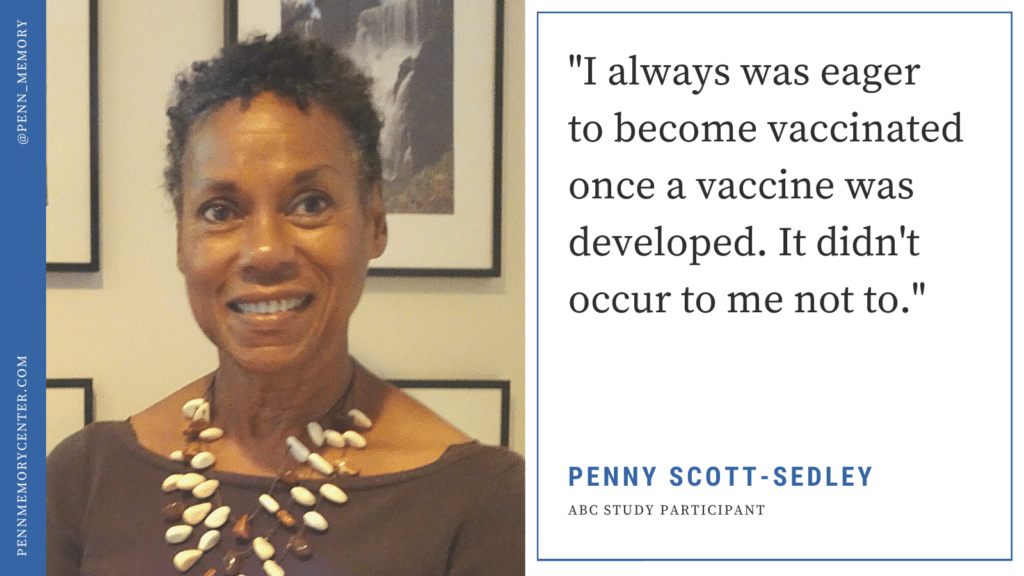 By Sharnita Midgett
On Feb. 24, Penny Scott-Sedley walked into the Perelman Center, eager for her chance to move towards a safer world after a year of the pandemic.
As an ABC participant, normally she would hear from Penn Medicine about her upcoming ABC visit. However, this time, she received an email from Penn Medicine informing her that she could schedule her appointment for the first dose of the COVID vaccine. Scott-Sedley knew that there would be spring-like weather in Philadelphia on Feb. 24, so with excitement, she planned to receive her dose that Wednesday.
"I always was eager to become vaccinated once a vaccine was developed. It didn't occur to me not to, especially not after it was reported that Blacks in this country were experiencing a much higher incidence of serious illness once contracting the virus and succumbing to it in higher numbers," Scott-Sedley began.
Her appointment time was busy, but she noted that the process was extremely well-organized.
"It took no time to get through to the person who would perform the jab, and the wait afterwards for monitoring any adverse reactions was easy-peasy."
She had no reactions after receiving the first dose of the Pfizer vaccine.
"As a Black woman of a certain age, I was aware of the historical struggle that Blacks have faced from racist and unethical scientists. Think the horrific Tuskegee Institute Scandal. But in this instance, we would not be singled out for the vaccine to the exclusion of other groups. So I considered it to be a safe bet."
—
March 2021 marked one year since many of the Penn Medicine patients, research participants and staff were told to stay home due to COVID-19. During this time, a breakthrough was made and the first COVID-19 vaccines — Pfizer and Moderna — were approved and available for the public. In the following months, Johnson & Johnson joined this list. Containing messenger RNA, or mRNA, the COVID-19 vaccine has genetic instructions for our cells. These instructions are sent to our cells once injected, and our cells create a spike-like protein similar to the shape of the spikes on the coronavirus. This tells our body to be alert whenever our cells are in contact with that shape. Penn Medicine explains what mRNA is in this video.
Medical student at PCOM, member of Alpha Phi Alpha, and Penn Memory Center community partner Frederick Okoye shared his experience with COVID-19. Last fall, he contracted the virus. He then made a visit to receive his COVID vaccine in January, and he documented his symptoms:
Received 1st dose – 1/15/2020 6 PM
1st 24 Hours
Mild fever, moderate fatigue, injection site soreness, mild headache, low appetite
Compared to my peers and other HCWs I know that got the vaccine, my side effects were more "severe" although it was nothing so debilitating I felt I needed medical attention. I slept a full 8 hours after the injection, napped in the afternoon, then slept for about 10 hours the following night because of the fatigue.
I took a Tylenol and 2 Ibuprofen, then slept which helped with the soreness and mild fever.
Days 2-present:
Mild arm soreness, no other symptoms
After those 24 hours, I did not take anything else for the soreness nor did anything in particular.
When asked to share his thoughts on the vaccine, he said, "It's really about this community. It's really about your grandparents. I have parents that are reaching that age of being able to be on Medicare. They are a population that is more likely to have an adverse effect if they contract this virus."
In a Zoom presentation, Okoye and his fellow medical school classmate Zita Jackson shared their knowledge of and thoughts on the vaccine.
"It's just peace of mind. It's just looking out for your fellow man or woman in your communities. Looking out for our elderly, looking out for our immunocompromised. It's doing your civil duty." Okoye said. "If you're lucky enough to get the vaccine, I strongly encourage anybody to do so."
Jackson shared information about COVID-19, discussed facts about the vaccine, and discussed why people should be vaccinated.
"Black and African-American, and broadly minority, groups are disproportionately affected by this virus" "We want to get the vaccine out there so we can reach herd immunity. Herd immunity means we're less likely to get [COVID-19]," Jackson said. "You're helping others by getting the vaccine. You're making the spread less likely."
High-risk conditions in Philadelphia include cancer, chronic kidney disease, chronic obstructive pulmonary disease (COPD), diabetes, down syndrome, heart conditions, such as heart failure, coronary artery disease, or cardiomyopathies, HIV, organ transplant, obesity and severe obesity, pregnancy, sickle cell anemia, and smoking. Penn Medicine is starting by vaccinating patients who are most at risk of serious illness from COVID-19, in accordance with city, county and state guidelines.
If you are a Penn Medicine patient, you can learn more about the guidelines for receiving a COVID-19 vaccine and where you can receive one here. If you are interested, you can fill out this COVID-19 vaccine interest form.
For Okoye, Jackson, and participants like Scott-Sedley, being vaccinated is a step towards protecting ourselves and others. "I believe everyone should be vaccinated. It helps the individual and it helps society at large," Scott-Sedley began. "For someone who professes to be scared of getting vaccinated, I would ask what the fear is based upon. Then direct them to factual information that might address and ease their fears."