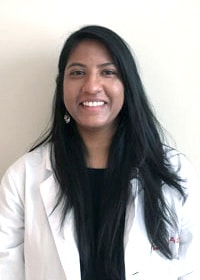 Penn Memory Center Geriatrician Soumya Bollampally, DO, will be leaving PMC this September after four years. 
Dr. Bollampally earned her undergraduate degree in Health and Societies from the University of Pennsylvania, received her medical degree at the Rowan School of Osteopathic Medicine and completed her Internal Medicine Residency and Chief Residency year at Pennsylvania Hospital in Philadelphia. She completed her Geriatrics Fellowship at the University of Pennsylvania and became an Instructor in the Division of Geriatric Medicine in 2015 and Assistant Professor in 2016. 
Dr. Bollampally's work and research focused much on home-based care for elderly adults. She published two abstracts in 2015 on how home-based care reduces the cost for eligible adults under Medicare's Independence-at-Home criteria. Dr. Bollampally said she would like to thank everyone at PMC for an incredible experience and invaluable knowledge that will guide her through the rest of her career.