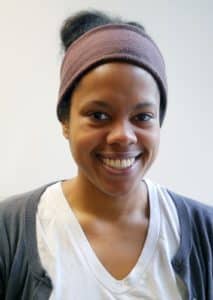 Catherine joined the Penn Memory Center in 2017 as a student researcher for the Penn Minority Scholars in Aging Research program under the supervision of Dr. Roy Hamilton. Catherine will be working on language fluency recovery with noninvasive brain stimulation and post-stroke and neurodegenerative aphasias. She will also be working on projects identifying biomarkers for Primary Progressive Aphasia (PPA) and Behavioral Variant Frontotemporal Dementia (bvFTD).
Catherine received her bachelor's degree in biology with a minor in Japanese from Haverford College in 2011. Catherine is currently working on her Master of Science in Translational Research (MTR) while attending the Perelman School of Medicine.
Catherine has worked with different modalities of noninvasive brain stimulation including Transcranial direct current stimulation (tDCS) and Transcranial magnetic stimulation (TMS). She has also worked with two etiologies of aphasia: post-stroke and neurodegenerative disease.
Catherine is looking forward to expanding her previous work with tDCS to better establish for which patients can tDCS be most useful for language fluency recovery. She is also excited to flesh out the CSF biomarkers projects for neurodegenerative disease, and will be applying to neurology residency programs this fall.