Join us in saying farewell and best of luck to Kayci Vickers, MS, who has been a neuropsychology practicum student at the Penn Memory Center (PMC) for the past two years. She came to PMC as a doctoral student at Drexel University in Clinical Psychology, specializing in neuropsychology.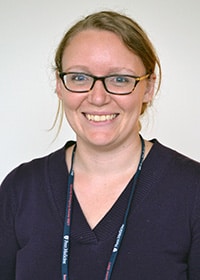 Ms. Vickers has had a role in all aspects of neuropsychological services at PMC, including conducting comprehensive neuropsychological evaluations, testing PMC patients and Aging Brain Cohort (ABC) study participants, and acting as co-facilitator of the Cognitive Fitness Psychotherapy and Skills groups. She also recently published a normative paper on olfactory testing (Sniffin' Sticks) in older adults in the Archives of Clinical Neuropsychology.
Ms. Vickers will be moving on to an internship training program at Emory University next month.
"She has been a pleasure to work with, is a team player and has a bright future. She will be missed!" said her supervisor and PMC director of neuropsychological services Dawn Mechanic-Hamilton, PhD.