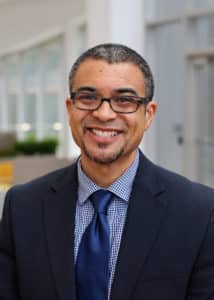 215-662-7810
roy.hamilton@pennmedicine.upenn.edu
Dr. Roy H. Hamilton is an associate professor of neurology at the University of Pennsylvania Perelman School of Medicine. He is board certified in neurology.
He graduated from Harvard University Medical School and the Massachusetts Institute of Technology with degrees in medicine and health sciences technology. He completed residency in neurology and a fellowship in cognitive and behavioral neurology at the University of Pennsylvania Perelman School of Medicine.
In addition to evaluation and care he provides patients through the Penn Memory Center, Dr. Hamilton is actively engaged in neurology research. The central aim of his research is to define the mechanisms and limits of functional plasticity in the intact and injured adult human brain. As the director of the Laboratory for Cognition and Neural Stimulation at Penn, Dr. Hamilton uses a combination of behavioral measures and noninvasive brain stimulation techniques, including transcranial magnetic stimulation (TMS) and transcranial direct current stimulation (tDCS), to elucidate structure-function relationships related to normal cognition and to promote therapeutic reorganization of neural representations of cognitive functions in individuals who have suffered from stroke.
Outside of his research, Dr. Hamilton teaches medical students and neurology residents in multiple venues and is the associate director of Penn's Clinical Neurosciences Training Program. Dr. Hamilton is also deeply involved in issues related to diversity in medicine, inclusion, and health equity. He is one of the Assistant Deans for Diversity and Inclusion at the Perelman School of Medicine and the inaugural Vice Chair for Diversity and Inclusion in the Department of Neurology at the University of Pennsylvania.
Dr. Hamilton is not accepting new patient appointments at this time.