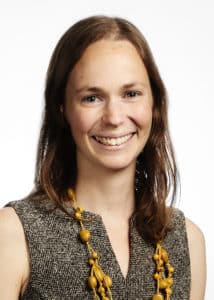 Sara Manning most recently joined Penn Memory Center as a clinical fellow this summer, but she has been with the Perelman School of Medicine since 2010, achieving her Master's in Cell and Molecular Biology and Doctor of Medicine. 
Sara hails from Boston, Massachusetts and received her undergraduate degree in biochemistry from Harvard University and graduating magna cum laude prior to moving to Philadelphia. She cites her interest in dementia in it's ability to not just change how people feel but who they are.  It presents a unique challenge, inflicting recurrent loss as the disease progresses, forcing family members to repeatedly adjust to a "new normal." She's excited to explore her interest in narrative medicine and listen to the caregiver, physician, and patient stories to enhance the treatment and caregiving experience. 
Sara is also currently working on a book about molecules that hijack the brain, set to publish under W.W. Norton.