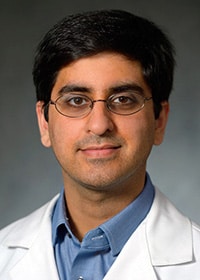 215-662-7810
sanjeev.vaishnavi@pennmedicine.upenn.edu
Dr. Sanjeev Vaishnavi is an assistant professor of neurology at the University of Pennsylvania, Perelman School of Medicine. He is board certified in neurology, and has fellowship training in cognitive neurology with an emphasis on Alzheimer's disease and related diseases.
Dr. Vaishnavi graduated from Georgia Institute of Technology with a bachelor's of science in applied biology and then studied medicine (doctor of medicine) and completed doctoral training (doctor of philosophy in neuroscience) at Washington University in St. Louis as part of the Medical Scientist Training Program (MSTP). He then came to the University of Pennsylvania, Perelman School of Medicine to train in neurology, including a UCNS-certified fellowship in cognitive and behavioral neurology.
Dr. Vaishnavi specializes in the diagnosis and treatment of older adults with cognitive impairment and dementia, including Alzheimer's disease and other neurodegenerative conditions, and training medical students, neurology residents, and fellows to be the next generation of leaders. His research has focused on using advanced imaging techniques including functional connectivity MRI and PET to understand learning and aging related changes in the resting human brain, and at the Penn Memory Center, he does clinical research to discover better ways to diagnose and treat neurodegenerative diseases, with an emphasis on early diagnosis and prevention.
Dr. Vaishnavi is accepting new patient appointments through the Penn Memory Center. To schedule an appointment, call 215-662-7810.