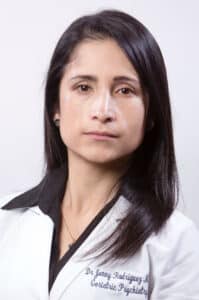 Dr. Jenny Rodriguez, a board certified Geriatric and adult psychiatrist, is an assistant professor of clinical psychiatry at the Perelman School of Medicine at the University of Pennsylvania. She did her residency and fellowship training at the University of Miami, where she was involved in geriatric clinical care at the Center on Aging. Dr. Rodriguez worked as medical director of the geriatric psychiatry unit at McNeal Hospital in Berwyn, Illinois, and was the Clinical Director of the acute inpatient psychiatry unit at Hartgrove Behavioral Health Hospital in Chicago.
Her practice has been dedicated to the care of older adults, with multiple age-related mental health disorders such as delirium, dementias, depression, mood disorders of later life, anxiety disorders, psychosis, alcohol and substance abuse, personality disorders, and bio-psycho-social problems. She has provided psychotherapy to aging adults and their families, as well as long-term psychiatric care and consultation liaison services.
Dr. Rodriguez currently works at the Outpatient Psychiatry Center where she specializes in the diagnosis and treatment of mental illness in older adults, and in patients with cognitive impairment and dementia, including depression, bipolar disorder, anxiety, late-onset schizophrenia, and certain other medical conditions. She also trains psychiatry residents and geriatric fellows.
Dr. Rodriguez is accepting new patient appointments through the Outpatient Psychiatry center. To schedule an appointment, call 215-746-6702.