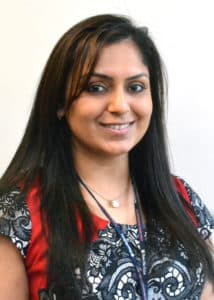 arushi.kapoor@pennmedicine.upenn.edu
Dr. Arushi Kapoor is dual board-certified in geriatric and adult psychiatry. She is also the director of the Geriatric Psychiatry Fellowship at the University of Pennsylvania. She completed her fellowship at Perelman School of Medicine at the University of Pennsylvania. She completed her psychiatry residency at Howard University Hospital, Washington D.C., where she earned "Outstanding Resident Service" and "Psychiatry Senior Resident Research" awards. She completed her bachelor's degree at UC Davis California and a combined master's and medical degree at Saba University School of Medicine. Throughout her residency, she was in leadership and advocacy roles as the resident fellow representative at the local APA chapter and leader of the Committee of Interns and Residents. Her research interests are in collaboration and access to geriatric psychiatric care.
In addition to her clinician role at the Penn Memory Center, Dr. Kapoor spends her time at the Veteran Affairs Medical Center as a "geriatric champion" on the Bronze Team. She has assisted with establishing a geriatric psychiatry clinic as part of the outpatient services to focus on cognitive impairment and age-related mental health disorders. She has provided tutorials and seminars on caregiver burden and dementia education to several staff and colleagues as part of her dedicated role in teaching.
Dr. Kapoor serves as a consultant to VA's Home-Based Primary Care (HBPC) providers to assist veterans limited to home care with mental health crises. She also works at the Community Living Center (CLC), a long-term care living facility for veterans, and has been an active member of the STAR-VA treatment planning and engagement services.
Dr. Kapoor is accepting new patient appointments through the Penn Memory Center. To schedule an appointment, call 215-662-7810.