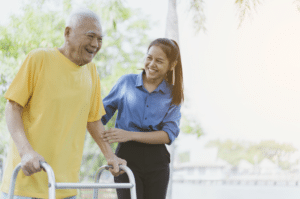 The TRAILBLAZER-ALZ-2 Study is a clinical research study for people who may be at risk for memory problems. The purpose of the study is to see if the drug donanemab can help slow the progression of Alzheimer's disease. Participants are randomly assigned to receive the donanemab or placebo (non-active agent used for comparison) and are given the drug or placebo by an intravenous infusion. This study is approximately two years in length. Donanemab is not FDA-approved and is investigational.
Who can participate?
Individuals 60-85 years of age with early symptomatic Alzheimer's disease. Participants must have a reliable study partner: a spouse, relative, or friend who knows the participant well and sees them often, who will attend study visits, and who will provide information about the participant during the study.
What does the study include?
Screening, which may be spaced out over multiple visits, will determine eligibility. The screening includes:
A physical and neurological exam
Medical history and medication review
Collection of blood
ECG/EKG
Assessments of your memory, thinking, mood and well-being
Brain MRI and PET scans
After the screening, study activity includes:
One "baseline" visit, then, depending on what arm of the study the participant is assigned to, 55 or 79 infusions spaced out over four years at the Clinical Translational Research Center at the Hospital of the University of Pennsylvania
MRIs, memory and thinking tests, blood and urine collection, and assessments of mood and well-being
Compensation
Participants will be reimbursed for time and travel.
Before enrolling, the participant and study partner must read, understand, and sign a formal consent form which fully explains the study. Please visitRAILBLAZER to learn more about the study and find a location closest to you.
Contact
For details, contact study coordinator Melissa Kelley at 215-662-2672 or Melissa.Kelley@pennmedicine.upenn.edu.