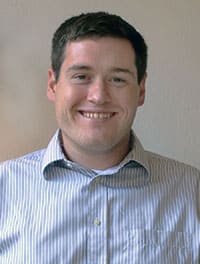 215-898-9979
terrence.casey@uphs.upenn.edu
Terrence Casey joined the Penn Memory Center in 2015 as communications coordinator. He manages content for the Penn Memory Center and the NIA-funded Alzheimer's Disease Center's Outreach and Recruitment Core; the CDC-funded Healthy Brain Research Network Center; and the Neurodegenerative Disease Ethics and Policy Program.
Terrence is also the editor of www.makingsenseofalzheimers.org, a creative space for understanding the past, present and future of Alzheimer's disease, an evolving forum for conversation about the disease; www.mytypicalday.org, allowing older adults living with mild cognitive impairment to document their lives as they address their condition; and www.whealthcare.org, which describes a paradigm of merging the banking and financial sector, or wealth, with healthcare. It is a strategy to slow the growth of elder financial abuse.
Terrence graduated from Penn State University with a B.A. in journalism and worked as a journalist and editor before joining PMC.