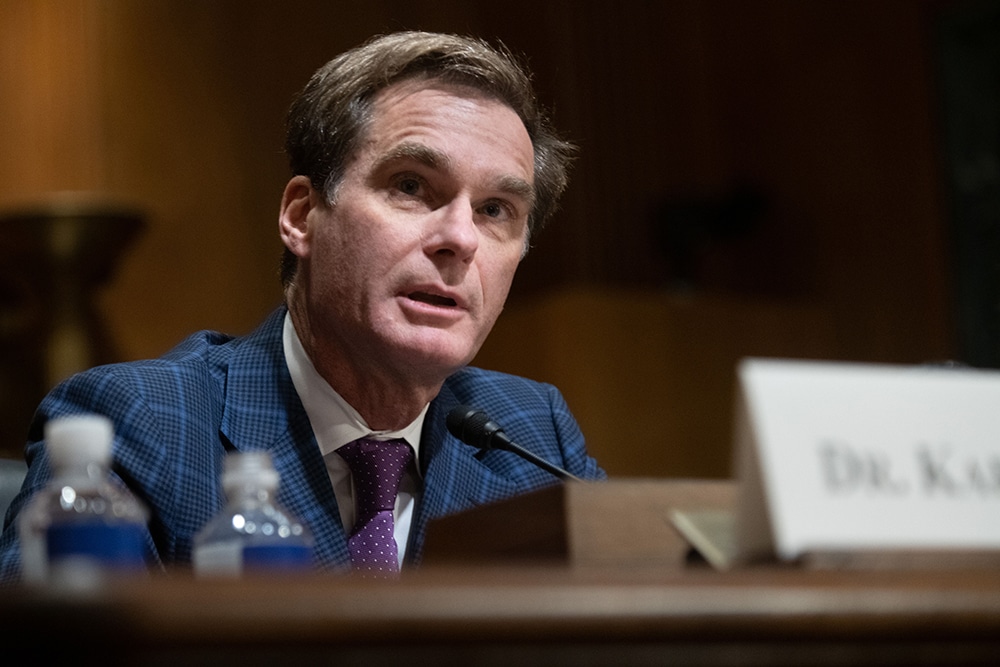 By Danny Yarnall
Penn Memory Center Co-Director Dr. Jason Karlawish, MD, recently testified on the state of Alzheimer's and dementia research and care in Washington, D.C. before the Senate Finance subcommittee on health care.
Dr. Karlawish spoke about the progress made in understanding Alzheimer's disease in the past four decades, from a disease surrounded in confusion that developed into a "gothic horror story" to a disease that can be diagnosed non-invasively and understood by families and physicians alike. He was joined by medical professionals, researchers, and caregivers presenting the barriers and difficulties in Alzheimer's care today.
"I am sad however that there are still too many persons living with dementia and their families who are telling the same stories told some 40 years ago," he said in his remarks to subcommittee chair Patrick Toomey (R – PA) and ranking member Debbie Stabenow (D – MI), who led the hearing. The subcommittee on health care focuses on Medicare and Medicaid spending and health programs financed by a specific tax or trust fund. 
Adults 65 and over are most likely to have Alzheimer's disease, and therefore Medicare has a large role in shaping the future of care for the disease in addition to expanding the workforce of physicians qualified and trained to care for patients with dementia through grants and other outside funding.
"The most important intervention you can do for your constituents," he told the committee, "is to create a better business model for the diagnosis and care of persons with Alzheimer's disease."
The model Dr. Karlawish advocated for depends on increased knowledge and study of the Medicare billing system, specifically billing code 99483, "Cognitive Assessment and Care Plan Services." This provides covers a comprehensive assessment for adults with cognitive impairment, including dementia, and includes the creation of a care plan. In 2017, less than 1 percent of seniors eligible for the care provided by the code received it. 
Even when the code is being used there are limitations to what it covers. For instance, at the Penn Memory Center, social workers provide care planning services. The current iteration of the billing code would not cover their services.
"The code should recognize that many of the services for dementia care are effectively and efficiently delivered by nurses, social workers, and community health workers," he concluded.
By understanding how these billing codes are being used and where they fall short, lawmakers can adapt and amend Medicare to provide easier access to these resources for older adults.
"We must study who is using this code and who is not, why and how well it works…we should do this with the same urgency as our studies of Alzheimer's biomarkers," Dr. Karlawish advised Senate committee members.
This business model also has to provide resources for caregivers if improvements are to be made in Alzheimer's patients' care and quality of life.
The Health and Retirement Study's Aging Dementia and Memory Study showed Alzheimer's total yearly costs to the U.S. in 2010 were as much as $215 billion, and one-third to one-half of that figure is the cost of the time and effort of a family caregiver providing care, placing a significant burden on the crowded shoulders of caregivers
However, interventions provided by Resources for Enhancing Alzheimer's Caregiver Health (REACH) such as caregiver education and problem-solving strategies, or support after discharge from a hospital or nursing home, have been shown to reduce caregiver distress, costs of care and improve patient quality of life. These interventions might also reduce the total costs of Alzheimer's, Dr. Karlawish added.
In addition, he noted that the workforce of specialists needs to grow as the number of people diagnosed with Alzheimer's rises. The American Geriatrics Society estimates 30,000 geriatricians will be needed by 2030 to care for about 21 million older Americans or roughly 1 geriatrician per 700 patients. In 2016, there were 7,293 certified geriatricians in the US or 1 geriatrician for every 1,924 Americans age 65 or older in need of care.
Primary care physicians are the first point of contact for many people seeking answers to their cognitive decline. A combination of misunderstanding around the disease and lack of knowledge about Medicare billing codes leaves patients twisting in the wind in the healthcare system. If there are more specialists like neurologists, psychiatrists or geriatricians, patients can receive their diagnosis quicker and have lower Medicare costs, compared to those diagnosed through a physician, he added.
For Dr. Karlawish, his colleagues, and other advocates that testified on Capitol Hill on November 20th there is an urgency to avoid the same stories that have been repeated over the last 40 years. 
"Right now there are people in America, they're not getting diagnosed, they're not getting treated and their families that are suffering. They're sick and they need help," he said.