By Meg McCarthy
When her father was diagnosed with a genetic form of frontotemporal dementia (FTD), Deia Schlosberg felt her only choice was to get genetic testing.  
An Emmy award-winning filmmaker, she has spent her career exposing the reality of climate change and advocating for environmental justice.  
Schlosberg is a truth teller. Seeking genetic counseling and testing was the path forward to finding her truth. 
"There was zero question for me," said Schlosberg. "I wanted to find out."  
Yet, for many at risk for developing a neurologic condition, such resolve is less clear. While Schlosberg is research-oriented, most aren't aware of what genetic counseling and testing entails.  
There are two types of genetic counseling and testing: diagnostic and predictive.  
Diagnostic genetic testing is when an individual with a diagnosis undergoes testing to determine if there is a genetic cause. Predictive genetic testing occurs when an individual does not have any symptoms, but wants to determine if they are at risk for developing a condition based on their family history. 
Laynie Dratch, ScM, CGC, is a genetic counselor at Penn's FTD Center and often works with patients with FTD and their families.  
"The goal is really to help patients adapt to whatever the medical, psychological, and social issues are around the potential genetic condition in their family. I help them understand the genetics of the condition that they are here to talk about, and whether genetic testing aligns with their goals" said Dratch.
Many of Schlosberg's paternal family members have FTD. She first learned that there was a genetic component after losing her uncle to the disease years ago.  
"I sat in a genetic counseling session with my aunt and cousins after he died to learn more," said Schlosberg. "When I learned about the studies being done, and that you could help other people and have a confidential diagnosis, I was really interested." 
For years, her family wondered whether her father would develop the disease. And in 2020, he was diagnosed.  
Schlosberg was terrified.   
With this information, she knew she had a 50/50 chance of having the genetic variant.  
Schlosberg dove into resources for individuals with FTD and their family members. Joining Facebook groups and bulletin boards, she read the many perspectives of people who decided for or against predictive genetic counseling and testing. 
Enticed by the notion of her results being paid for and private, Schlosberg enrolled in the ALLFTD study.  
ALLFTD is a large observational study that aims to help FTD drug trials by providing important clinical information about the disease. Organized as a consortium, the project has numerous study sites, and Penn is one of them. The study recruits both persons with a diagnosis of FTD, as well as individuals who may be at risk of developing FTD based on their family history or a genetic variant in the family.  
ALLFTD participants complete cognitive, behavioral, and medical testing. 
Participants also have the option to meet with a genetic counselor as part of their study participation, which is Dratch's role for the Penn location of the ALLFTD study. The cost of genetic counseling and testing services are covered by the research program, and participants are ensured that their results are kept confidential.  
To begin counseling, Dratch partners with the patient to set goals for the discussion. She takes a family history and creates a family tree called a pedigree. This allows her to provide a risk assessment, which explains the odds of the condition in the family having a genetic cause.  
She also answers questions about the disease and educates patients about their genetic testing options.  
If a patient wants to pursue testing, Dratch holistically reviews the process. Dratch talks to the patient about the pros and cons, limitations, and potential results of testing before proceeding.  
Dratch notes there are some special considerations about privacy and discrimination when considering predictive genetic testing. While the Genetic Information Nondiscrimination Act (GINA) protects individuals from discrimination by their employer and health insurance (in most cases), it does not include protection against life-insurance, long-term care insurance, or disability insurance companies that may seek medical information when determining coverage eligibility if you apply for a new policy.  
"It's more than just education," said Dratch. "We are helping people adapt to what they're going through. Often, there are a lot of feelings of loss and grief involved in this process. We help identify supports and resources for families throughout." 
As the process began, Schlosberg was forced to consider the reality of her future if she did have the genetic variant causing FTD in her family. 
"I had to have harder conversations with my husband that maybe wouldn't have happened if finding out wasn't imminent. There was serious checking in and worry about the meaning of different possibilities and outcomes, which we could have easily danced around if there wasn't something concrete ahead," said Schlosberg.  
Once an individual decides to test, they work with Dratch to create a results disclosure plan. 
"We establish a time and day to go over results, the format of our meeting, and give thought to what the rest of that person's day looks like," said Dratch.  
Even at the disclosure visit, Dratch will reconfirm that the participants want to know their results at that time.  
"When I got my result, that I don't have the mutation, it enabled me to be a much better care team for my dad. I can be more present for him without having a large part of my brain imagining my own future," said Schlosberg.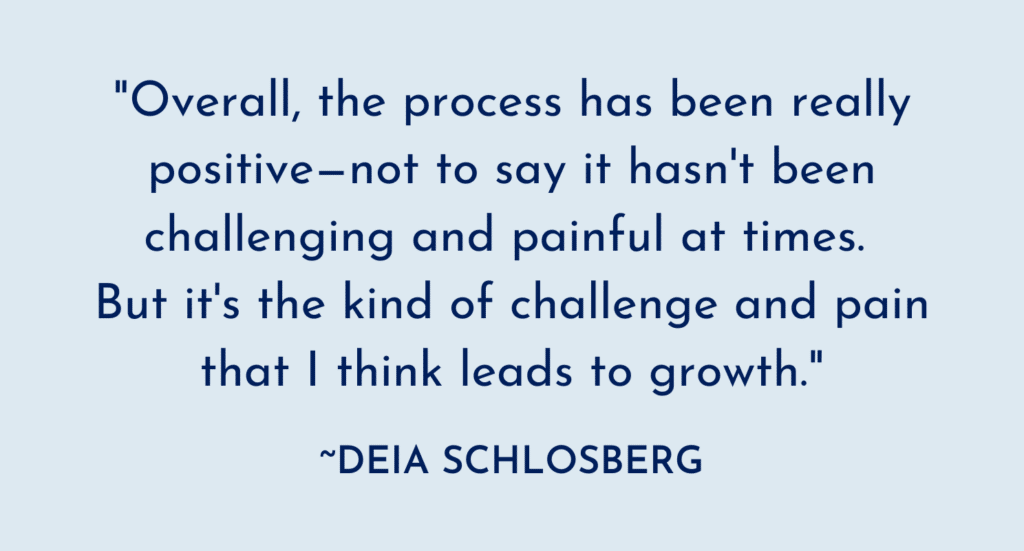 Immediate relief flooded Schlosberg as she learned of her results. However, emotional reactions are complex, and Dratch provides support to her patients regardless of their result.  
"Even a negative result can bring mixed emotions, as it does not take away the fact that the family is going through this," said Dratch. "There are complicated dynamics that can arise between siblings, cousins, and other family members as well." 
A follow-up phone call or video visit is usually scheduled for within a month of disclosure.  
If there is a genetic cause found, genetic counselors work with any and all family members who have questions and need support.  
"For anyone who has questions about genetics, even if they know they don't want any testing, it is appropriate for them to see a genetic counselor," said Dratch. 
While Schlosberg was clear about wanting testing, Dratch maintains that there is never pressure to get testing when working with a patient. 
"I never felt any bit of external pressure during the study," said Schlosberg. "Everything was up to me, like having the pace of the process match my own headspace. I appreciate her role as a guide through this."  
Now, Schlosberg returns to a life of being present. Present for her father as he continues life with FTD. Present with her mother and husband, who saw and worried about the burden she felt. And present for her own peace of mind. 
"Overall, the process has been really positive — not to say it hasn't been challenging and painful at times. But it's the kind of challenge and pain that I think leads to growth," said Schlosberg.
November 10th is Genetic Counselor Awareness Day. If you are interested in genetic counseling and testing, you can:  
T

ravel to Philadelphia to be seen at Penn by a genetic counselor. Phone number for scheduling is 215-662-3606, and you would request a neurogenetics visit.

 

F

ind a genetic counselor in your home state using the Find

a

Genetic Counselor Tool:

https://findageneticcounselor.nsgc.org/

 

 

Access co

unseling and broad genetic testing through th

e ALLFTD research study. It is entirely observational, meaning there are no interventions for those participating:

https://www.allftd.org/