By Erin Alessandroni
Penn Memory Center researchers and their collaborators will have prominent spots at this year's Alzheimer's Association International Conference (AAIC), an annual research conference hosted by the Alzheimer's Association.
International investigators, clinicians, and researchers will come together July 22 to 26 in Chicago to share the latest study results, theories, and discoveries to help bring the world closer to breakthroughs in dementia science.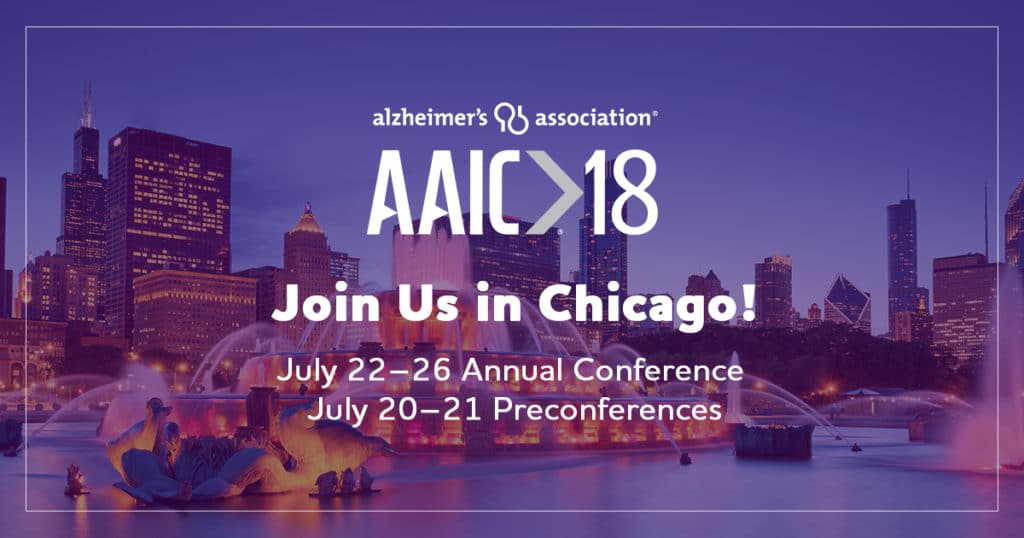 PMC Co-Director David Wolk, MD, is a program chair for The Alzheimer's Imaging Consortium (AIC), a preconference to the AAIC that will focus on the clinical application and methodological development of neuroimaging to Alzheimer's disease, other neurodegenerative diseases, and normal brain aging. He is also an Ex-Officio member of the Scientific Program Committee (SPC) as the Immediate Past Chair, Neuroimaging Professional Interest Area. The SPC includes international experts in a variety of topic areas who are committed to developing the most relevant and innovative content for the conference each year.
Additionally, Dr. Wolk is the co-author of three presentations and 11 posters at the conference on topics including amyloid deposition, tau buildup, vascular disease, gene expression, and hippocampal imaging in Alzheimer's disease.
"International collaborative events such as the AAIC are essential steps in the search for ways to slow the progression of or entirely prevent cognitive decline," said Dr. Wolk. "Open discussions about current research methods and findings allow the medical community to learn from one another and better as a whole."
PMC Co-Director Jason Karlawish, MD, is the presenting author of "How does an Amyloid PET Scan Result Differ from Other Medical Results?," with PMC Scholar Shana Stites, PsyD, PMC Senior Research Coordinator Kristin Harkins, MPH, and former PMC Research Coordinator Benjamin Bear, MSW, as co-authors. This presentation will feature data from the Study of Knowledge and Reactions to Amyloid Testing (SOKRATES) on how cognitively normal older adults think about amyloid PET scan results, as compared to other medical test results, and their decisions to share or not share the result with others.    
Dr. Karlawish is also the co-author of two abstracts being presented on topics involving disclosure of amyloid imaging results to cognitively normal participants and psychosocial outcomes of APOE e4 genotype disclosure. Additionally, Dr. Karlawish is a co-author on five poster presentations focused on topics such as the risk of employment discrimination associated with preclinical Alzheimer's disease biomarkers and physician-perceived risks and benefits of amyloid imaging in a preclinical population.
"Talks, posters, symposia. The meeting is packed with research about Alzheimer's biomarkers. And no wonder," Dr. Karlawish said. "They hold great promise to improve diagnosis and discover better treatments, but this progress also presents real challenges and so I'm thrilled that our studies of the clinical, ethical and policy implications of these advances are part of the conversations."
The work of Dr. Stites will also be featured at the conference, as she is the lead author of three poster presentations involving the patient-participant experience and retention rates in Alzheimer's disease research studies. She focuses on how advances in biomarkers may affect the psychological and social wellbeing of individuals who are diagnosed early  with mild or even no symptoms. The goal of her research is to develop approaches for improving the quality of life for persons with Alzheimer's disease and related conditions. Drs. Karlawish and Wolk, Harkins, and Bear are all contributing authors to this work.
Prior to the AAIC, the CDC is holding a Healthy Brain Research Network (HBRN) conference during which Dr. Stites will present her work on the effects stigma has on individuals living with Alzheimer's disease and on efforts to discover effective treatments. The HBRN was established to address two growing public health challenges: promoting cognitive health and addressing the needs of older Americans living with cognitive impairment and their caregivers.
"I am proud to be a part of the innovative team that is Penn Memory Center," said Dr. Stites. "The breadth of our involvement at this year's AAIC is great, and I'm proud to be able to share what we're learning from patients and research participants about what it means to live with an Alzheimer's diagnosis."  
In addition, PMC Scholar Laura Wisse, PhD, who works with Dr. Wolk, and Sandhitsu Das, PhD, research assistant professor of neurology in the Perelman School of Medicine, are also presenting posters at AAIC focused on the relationship between medial temporal lobe subregional atrophy and cognitive impairments.
Through events like the AAIC, PMC researchers are able to effectively share their work and ideas with the medical community, allowing collaboration and fostering hope for improving diagnosis and care for persons with this disease and their families.
More information about AAIC 2018, including the full program schedule and a list of abstract titles, is available here.