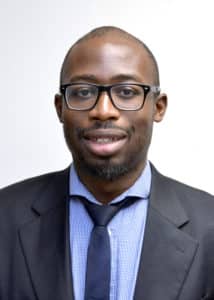 Victor Ekuta joined the Penn Memory Center in 2018 as a Penn Minority Scholar in Aging Research. He is currently working with Dr. Roy Hamilton and Dr. John Medaglia to explore the potential application of transcranial magnetic stimulation to aphasia recovery.
Prior to coming to PMC, Victor completed a Doris Duke Clinical Research Fellowship at Beth Israel Deaconess Medical Center/Harvard Medical School, where he investigated potential biomarkers for Alzheimer's disease.
Victor earned a B.A. in Biology and Philosophy-Neuroscience-Psychology (PNP) from Washington University in St. Louis in 2011. Following graduation, he completed a Post-baccalaureate Intramural Research Fellowship at the National Institute of Mental Health before beginning medical school at UC San Diego School of Medicine. In the future, he plans to pursue a residency in Neurology with a Fellowship in Cognitive/Behavioral Neurology.