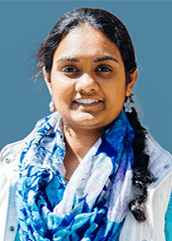 215-573-2902
lasya.sreepada@pennmedicine.upenn.edu
Lasya Sreepada is a Bioengineering Ph.D. student at Penn under Dr. Christos Davatzikos, in the Artificial Intelligence in Biomedical Imaging Lab. She is interested in exploring human neuroscience through interdisciplinary research and clinical practice. Her research leverages artificial intelligence to analyze patterns in medical imaging, clinical & neuropsychiatric data to elucidate underlying pathologies and biochemical mechanisms across a range of neurodegenerative diseases.
For her doctoral work, Sreepada applies machine learning and statistical modeling to large multivariate datasets to build informative imaging signatures of Alzheimer's disease. This could aid early diagnosis, prognosis and targeted treatment efforts in a precision medicine framework.
As an undergraduate, Sreepada worked with Dr. Alexander Lin at the Center for Clinical Spectroscopy, Harvard Medical School, to identify biomarkers of chronic traumatic encephalopathy in professional athletes, traumatic brain injury in military veterans, and neurotrauma from hypoxic-ischemic injury. She received her bachelor's of science in neuroscience (computational track) from Yale University in 2019, where she was nominated for the Yale College Nakanishi Prize for exemplary leadership in enhancing race or ethnic relations.
Sreepada also develops software for processing structural MRI and MR Spectroscopy. She is a leader in diversity and inclusion committees at PMC and in SEAS.