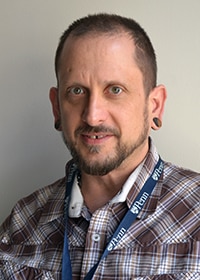 ernstch@pennmedicine.upenn.edu
Chris Ernst joined the Penn Memory Center as Data Manager in 2016. He is also the Senior Database Developer for the Center for Neurodegenerative Disease Research.
Ernst received his undergrad degree at the University of South Carolina in 2011. He studied information management and systems. Chris is hoping to earn his master's degree in the future.
Ernst is looking forward to streamlining and updating the Integrated Neurodegenerative Disease Database (INDD) as well as planning new software and hardware systems to assist CNDR, PMC and other associated centers and projects in their research goals.