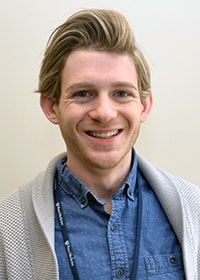 By Cait Kearney
Matthew Ferrara, MS Ed., is leaving the Penn Memory Center (PMC) after three years as a clinical research coordinator.  
"Matt has been an absolute delight to work with in his time here at the PMC," said PMC Co-Director David Wolk, MD, "Matt will be missed by our faculty, staff, and research participants." 
Ferrara joined PMC in 2018 as a coordinator for PMC's largest study — the Aging Brain Cohort (ABC) Study. Data collected through the ABC Study is used by scientists across the nation and the world to research Alzheimer's disease and life-long brain health. 
"He displayed a remarkable dedication to the success of the ABC study to the benefit of our research participants and the numerous studies that depend on these data," Dr. Wolk said.  
Ferrara said the best part of coordinating the ABC Study was building relationships with the participants.  
"Since the study is longitudinal, I was able to get to know a lot of the participants on a personal level and was able to be a recognizable face and name for them when they had questions," Ferrara said.  
While working with PMC, Ferrara completed a master of science in counseling and mental health services degree through the Penn Graduate School of Education. He plans to pursue a PhD in psychology in the future but is currently focusing on his new role as a senior clinical trials project manager with the Center for Cellular Immunotherapies at Perelman School of Medicine. 
"During my tenure at the Penn Memory Center, I have experienced so much growth in my career. I have worked with some amazing colleagues," Ferrara said, "Contributing to the field of Alzheimer's research has always been a goal of mine, and I am so lucky to have been able to do that at the PMC."