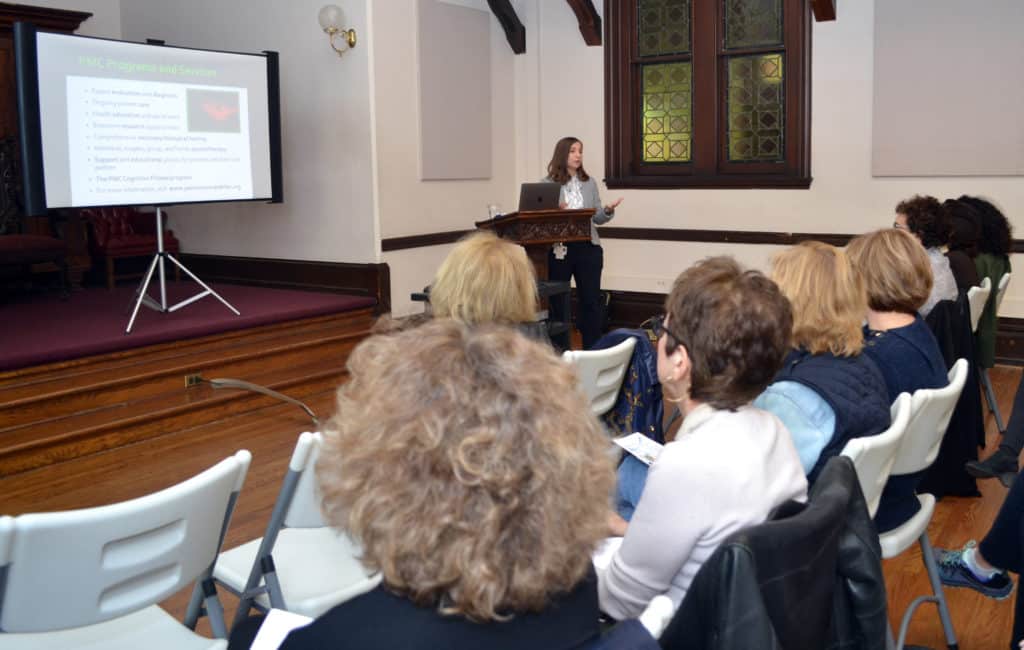 By Joyce Lee
On average, some amount of decline in memory and thinking skills is expected with age. But every older adult experiences cognitive aging and decline differently. Some develop neurodegenerative disease that hastens cognitive decline, while others preserve cognitive skills into their later years.
Making changes to reduce the risk factors in your life, such as diet, physical exercise, social activity, and cognitive engagement, is key to staying on the path of steady cognitive skills with advancing age.
This is what Dawn Mechanic-Hamilton, PhD, ABPP/CN, addressed in her talk on healthy brain aging to a group of older, professional women in the Ralston Center in late October. Dr. Mechanic-Hamilton is the Penn Memory Center director of neuropsychological services and cognitive fitness programs.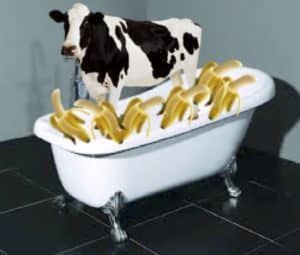 One tip Dr. Mechanic-Hamilton offered was to use compensatory strategies — such as loci — to retain key details in your memory.
"If you imagine walking into your house, and use everything that you see when you walk through the door as a mental map, you can begin placing items, or details, in different spaces, and remember them that way," she said.
For example, to remember the words "cow" and "banana," you might imagine a cow sitting in a pile of bananas in your bathtub. Or, to remember the words "dress" and "money," you might imagine opening your closet to find dresses made of money hanging inside.
"The more absurd the details, the easier it is to remember," she said.
Mnemonics can also be used to remember passwords, she said. This video shows Dr. Mechanic-Hamilton explaining how to construct a secure password that you will remember.
While compensatory strategies can help you work around memory problems, working out your brain can help improve some aspects of thinking.
"These cognitive activities should be enjoyable, but challenging enough that you shouldn't be able to multitask while doing it," she said.
For example, if quilting becomes a task that you can do without thinking much about the process, that may not be a cognitively engaging task. But if it involves you planning the quilt, organizing the patterns, and exercising your cognitive ability, then that will make it more likely that it will strengthen cognitive skills.
In addition, maintaining a physically active and socially engaged lifestyle is important for cognitive health, as well as seeking treatment for symptoms of depression and anxiety to improve overall mental wellbeing.
In the end, Dr. Mechanic-Hamilton emphasized the importance of turning these changes in everyday behaviors into sustainable habits. She told the story of a patient, who, in his late 50s, had never run before. Two years later, he just completed a 5k and was running regularly.
"You can start at any point. What's important is to begin doing these things now for you to best protect your cognitive health," she said.
The educational talk Dr. Mechanic-Hamilton gave was titled "Healthy Brain Aging: Preventing Cognitive Decline." It was held in collaboration with the Ralston Center for an audience from The Transition Network, a community of professional women age 50 and older whose changing life situations lead them to seek new connections, resources, and opportunities.
If your organization is interested in sponsoring PMC and securing one of our dementia specialists to give a presentation, please contact PMC Executive Director Felicia Greenfield at felicia.greenfield@uphs.upenn.edu.