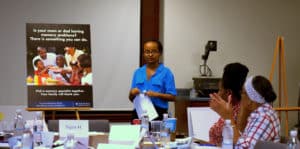 At the Penn Memory Center and at Alzheimer's research centers across the nation, patients are asked to visit with a "knowledgeable informant," or an adult who sees the patient regularly and would be able to identify changes in the patient's memory or daily function.
Often, the informant plays a critical role in getting his or her loved one to see a memory specialist in the first place.
To determine the best way to target potential knowledgeable informants, PMC Co-Director Dr. Jason Karlawish joined forces with Professor of Communications Amy Jordan in a Centers for Disease Control and Prevention Special Interest Project called "Public Health Communications: Culturally Relevant Messages and Strategies to Promote Awareness about Dementia, including Alzheimer's Disease."
The goal was to study the kinds of messages that would motivate individuals from diverse backgrounds to accompany a parent or parent-in-law on their trips to a memory specialist. As co-principal investigators of this study, Karlawish and Jordan hoped to "change the attitudes and views around Alzheimer's Disease" and create meaningful messages that would resonate with a wide range of potential knowledgeable informants, Karlawish said.
In the project's first phase, researchers sought to determine the beliefs, attitudes, norms and barriers that different communities face in trying to bring a loved one to a memory specialist. Sixty one-on-one interviews and about 600 telephone surveys were conducted with participants of different genders and races. Karlawish and Jordan then worked with a graphic designer to create posters featuring different messages. The posters were subsequently tested in focus groups, where participants shared whether these posters would motivate them to take an elderly loved one to a memory specialist.
While only minor differences were found in the kinds of messages that resonated with African-American or white adult children in focus groups, gender of the parent did matter in the survey phase.
Researchers are now looking for a partner who would be interested in using the messages.