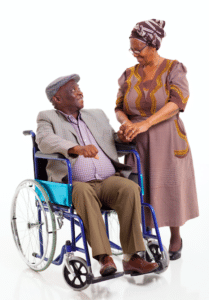 The Inner Strength Study seeks to better understand the experiences of people newly diagnosed with Mild Cognitive Impairment (MCI) in order to improve care for people living with MCI in the future. The Inner Strength Study is conducted by Penn Memory Center Clark Scholar Brianna Morgan, MSN, CRNP, ACHPN.
Who can join?
People diagnosed with MCI by a Penn neurologist in the last 12 months and their care partners – someone older than 18 who provides any type of unpaid support (social, emotional, physical, etc.)

 

Both the person living with MCI and their care partner must be willing to participate and able to communicate in English

 
What does the Inner Strength Study include?
 Three 30-60 minute interviews over two weeks and scheduled at your convenience — the person living with MCI and care partner will be interviewed together for two of the interviews and one interview will be alone

Interviews will take place virtually, over the phone, or in person based on participants' preferences
Compensation
Each person will be paid $40 for their participation
*Participation in this study will not delay or affect your care 
Contact
To join this study or ask questions contact Brianna Morgan, MSN, CRNP, ACHPN, at bemorgan@nursing.upenn.edu or 847-924-3440.