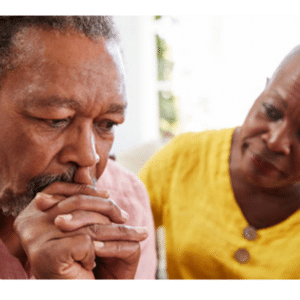 Up to 70% of Alzheimer's disease patients experience symptoms of agitation or aggression (emotional distress, aggressive or disruptive behaviors, shouting and disinhibition). These symptoms increase caregiver burden, decrease patient functioning, can result in earlier nursing home placement and increased mortality risk.
Agitation in Alzheimer's disease remains a challenge with no approved therapies. The Assessing Clinical Outcome in Alzheimer's Disease Agitation (ACCORD) is investigating a potential treatment.
If someone you provide care for has Alzheimer's and is not acting like themselves because of restlessness, aggression or irritability, this study may be an option.
Who is eligible?
You are elgible for the ACCORD study if you are:
have dementia from Alzheimer's and show signs of restlessness, irritability, or aggressive behaviors (this can be as mild as pacing or repeating themselves, or as challenging as physical aggression like punching and kicking)
are between the ages of 65 and 90 years old inclusive
have a caregiver that is willing to participate and attend study visits regularly
*Other criteria apply.
How long will the study last?
Participation in this study could last up to 39 weeks, or almost 10 months. The study is divided into three parts:
Screening period (up to 4 weeks)
Period 1 (up to 9 weeks)
Period 2 (up to 26 weeks)
After a short screening period, participants who choose to take part in the ACCORD study will take an investigational medication (AXS-05, not placebo) for up to 9 weeks. If there is a treatment response (their restlessness, aggression or irritability gets better) they can go into the next part of the study where they have an equal chance (50/50) of taking the investigational medication or a placebo for up to 26 weeks. Neither the participants nor the study doctor will know if they are taking the investigational medicine or a placebo.
After finishing the study, participants will have the option to join another study in which they will be given the investigational drug (AXS-05, not placebo) for up to 6 months. The purpose of this other study is to see if the investigational medication helps participants' symptoms of restlessness, aggression or irritability over a longer treatment time.
Contact
Laura Schankel, MS
215-906-7519
laura.schankel@pennmedicine.upenn.edu