As the year comes to a close, the faculty and staff of the Penn Memory Center offer you their favorite books they read in 2021. Click the book title to learn more and purchase.
Top recommendations
Creative Care: A Revolutionary Approach to Dementia and Elder Care by Anne Basting
"Anne Basting's "Creative Care: A Revolutionary Approach to Dementia and Elder Care" is among my prescriptions to caregivers, especially those who struggle to find meaning in creating a typical day that is safe, social, and engaged. Basting, a theater arts professor, makes a persuasive case that upends the usual and customary approaches to caring for persons living with dementia. Her central premise is that together caregivers and patients can create. She offers concrete ideas and steps to address some of the most vexing challenges." — Jason Karlawish, MD, PMC co-director *Check out Dr. Karlawish's full list of recommended reads
*Click here to see more of Dr. Karlawish's recommended reads.*
Born to Run: A Hidden Tribe, Superathletes, and the Greatest Race the World Has Never Seen by Christopher McDougall
"I'm sure this book is interesting to runners, but it isn't a book about running. It's part history lesson, part science class, part thriller, part meditation, part lifehack. McDougall battles a foot injury to learn about the runners from Mexico's Tarahumara tribe who run hundreds of miles at a time. The inspirational story may not get you to register for an ultramarathon, but it will surely make you reevaluate how you take your next step forward." — Terrence Casey, PMC director of communications and outreach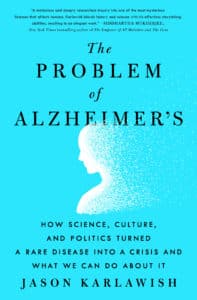 The Problem of Alzheimer's: How Science, Culture, and Politics Turned a Rare Disease into a Crisis and What We Can Do About It by Jason Karlawish
""The Problem of Alzheimer's" by Dr. Jason Karlawish is an interesting and immersive read, my favorite from 2021. The book is an engaging and excellently written exploration into the history behind what we call Alzheimer's disease and the interconnected stories of clinicians, scientists, entrepreneurs, patients and caregivers who have faced Alzheimer's in some form. Given the ongoing developments in Alzheimer's treatments and clinical trials, Dr. Karlawish's book is very timely." — Michael Duong, fourth-year medical student at Perelman School of Medicine
Being Mortal: Medicine and What Matters in the End by Atul Gawande
"Atul Gawande is a phenomenal storyteller who captures your attention while bringing to light the challenges of what it means to live and die in America." — Brianna Morgan, MSN, CRNP, ACHPN®, PMC Clark Scholar
Hidden Valley Road: Inside the Mind of an America Family by Robert Kolker
"I couldn't put down this moving story about a family with twelve children, six of whom were diagnosed with schizophrenia.  The book weaves together the perspectives of the various family members–as patients and as caregivers but also as people–with a rich discussion of broader issues in medicine and medical research." — Emily Largent, PhD, JD, RN, Penn Program for Precision Medicine on the Brain (P3MB) researcher
Remember by Lisa Genova
"Lisa Genova highlights key misconceptions with memory and forgetting and was very informative in an easy-read, friendly way." — Alyssa Rygalski, clinical research coordinator
Most anticipated book for 2022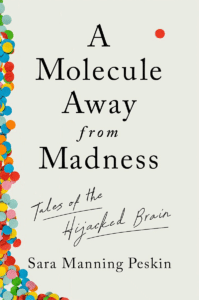 A Molecule Away From Madness by Sara Manning Peskin
"A Molecule Away from Madness" by PMC neurologist Sara Manning Peskin, MD, MS, will be released on February 8, 2022.
With a blend of history, intrigue, and storytelling, Dr. Manning Peskin invites readers to play medical detective and trace diagnosis from the patient to an ailing nervous system.
Sylvia Nasar, author of "A Beautiful Mind," called Dr. Manning Peskin's book "absolutely terrifying and wonderfully optimistic."
More recommended reads from PMC faculty and staff
A Tattoo on My Brain: A Neurologist's Personal Battle against Alzheimer's Disease by Dan Gibbs (nonfiction)
Empire of Pain: The Secret History of the Sackler Family by Patrick Radden Keefe (nonfiction)
Crying in H Mart by Michelle Zauner (memoir)
Klara and the Sun by Kazuo Ishiguro (fiction)
Cloud Cuckoo Land by Anthony Doerr (fiction)
All's Well by Mona Awad (fiction)
When Breath Becomes Air by Paul Kalanithi (memoir)
Owls of the Eastern Ice by Jonathan C. Slaught (nonfiction)
Station Eleven by Emily St. John Mandel (science fiction)
The Librarian of Aushwitz by Antonio Iturbe (historical fiction)
Elderhood by Louise Aronson (nonfiction)
Behind Her Eyes by Sarah Pinborough (thriller)
Shoe Dog: A Memoir by the Creator of Nike by Phil Knight (memoir)
Finding the Right Words: a story of literature, grief, and the brain by Cindy Weinstein (nonfiction)
Before I Forget: Love, Hope, Help, and Acceptance in Our Fight Against Alzheimer's by B. Smith, Dan Gasby, and Michael Shnayerson (nonfiction)
The Memory Clinic: Stories Of Hope and Healing for Alzheimer's Patients and Their Families by Tiffany Chow (nonfiction)
The Little Paris Bookshop by Nina George (psychological fiction)
The Extended Mind: The Power of Thinking Outside the Brain by Annie Murphy Paul (nonfiction)
Enjoy Every Sandwich: Living Each Day as if it Were Your Last by Lee Lipsenthal (healing, medical biography)
I'll See You in My Dreams by Doreen Kimmel (fiction)
What Happen to You?: Conversations on Trauma, Resilience, and Healing by Bruce D. Perry and Oprah Winfrey (self-help)
My Grandmother Asked Me to Tell You She's Sorry by Fredrik Backman (fiction)
The Story of Arthur Truluv by Elizabeth Berg (fiction)
The Body by Bill Bryson (nonfiction, humor)
Say Nothing: A True Story of Murder and Memory in Northern Ireland by Patrick Radden Keefe (nonfiction)
Call the Midwife Stories Collection by Jennifer Worth (nonfiction)
The Year of Magical Thinking by Joan Didion (biography, loss)
The Undying: Pain, vulnerability, mortality, medicine, art, time, dreams, data, exhaustion, cancer, and care by Anne Boyer (nonfiction)
Barcelona Dreaming by Rupert Thomas (fiction)
The Caregiver's Encyclopedia: A Compassionate Guide for Caring for Older Adults by Muriel Gillick (reference)
The Last Ocean: A Journey Through Memory and Forgetting by Nicci Gerrard (nonfiction)
Driving Miss Norma: An Inspirational Story About What Really Matters at the End of Life by Tim Bauerschmidt & Ramie Liddle (travel writing)
The Splendid and the Vile by Erik Larson (WWII biography)
Should We Stay or Should We Go by Lionel Shriver (fiction)