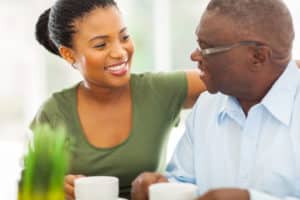 The Time Out Respite Care program is currently postponed until further notice due to COVID-19. The virtual Weekly Smiles program is occurring. 
Time Out is a community program in which Philadelphia area college students provide high quality, low-cost respite care (temporary relief from the responsibilities of caregiving) to families supporting an older adult, including those with physical or cognitive disabilities. The Penn Memory Center (PMC)  and The Intergenerational Center at Temple University work together to coordinate Time Out. Time Out was first launched in 1986 and since 2019, it has operated in thanks to a generous grant from the Pew Charitable Trust. In 2011, Time Out received national recognition from Generations United, a National Program of Distinction, a designation that celebrates outstanding intergenerational programs.
By engaging college students and matching them with older adults to provide, caring companionship and meaningful engagement, we seek to mitigate isolation and preserve this vulnerable population's dignity, independence, and overall quality of life. This also allows family caregivers to take a small break from their duties, in order to take care of other important tasks, avoid burnout, and have fun! The program also seeks to reduce the stress and social isolation commonly experienced by family caregivers and their elderly loved ones. It provides your loved one with companionship and a chance to mentor college students who wish to gain valuable experience in geriatric care.
Time Out facilitates meaningful, engagement through intergenerational companionship by connecting older adult individuals with trained college students. During our postponed in-home respite, students were unable to assist in personal care — such as bathing, dressing, feeding, or toileting — nor administering medications or therapies. While private in-home respite care may cost more than $25 an hour, Time Out in-home respite care providers will be available for $8.50 an hour and up to 10 hours per week. Our Weekly Smile program is free of charge!
Find out more about the In-Home Respite Care Program and Weekly Smile on timeoutcare.org.
Any questions can be sent to Meg Kalafsky at either megan.kalafsky@pennmedicine.upenn.edu or 267-624-4282.