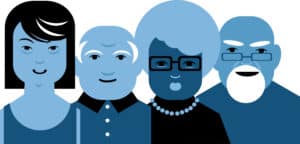 Many individuals know to "eat right," "exercise," and "sleep enough," but they don't know what constitutes eating right or what exercises are feasible for them given any physical limitations. People are curious about the vitamins and supplements they can take to help them in many domains and how much alcohol is "safe" to drink. Research has shown countless benefits to social support and social engagement. Are older adults aware of the benefits and/or resources available to them? Meditation/mindfulness can help reduce stress, lower blood pressure, improve sleep, and more. In this series, we will explore the many domains impacted by age and give participants practical suggestions on how they can age in a healthy manner.
Topics to be covered:
Normal Aging
Diet and Nutrition
Sleep
Cognitive Health and Engagement
Exercise/Physical Fitness
Social Engagement
Research
Mental Health and Wellness
Healthy Aging Presentations: (click here to access the entire playlist via youtube) 
Healthy Social Engagement As We Age 
Schedule: There are no upcoming sessions of the Healthy Aging Series.
Questions or concerns? Feel free to reach out to either Meg Kalafsky (megan.kalafsky@pennmedicine.upenn.edu or 267-624-4282)