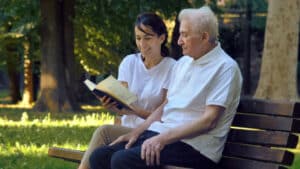 Experiencing the changes following a diagnosis of cognitive impairment in a loved one can be very difficult. Being a caregiver often means losing the connection to the person you loved as they were before the diagnosis. Your loved one's interests, passions, and desire for connection can still be there, and just need a little assistance to access.
In this 4-session, interactive course, you will learn the skills and strategies to access the parts of your loved one that make them who they are. You will learn simple techniques that bring out your loved one's abilities instead of reinforcing their disabilities. You will learn how to create your own "Conversation Station" with your loved one, and discover many tips and resources to help you do that. You might even find the process fun and engaging for yourself!
The upcoming schedule is to be determined and will be announced shortly.
Session Topics
Each session will cover a different topic, with time for questions and sharing throughout each session. Participants will be given easy "homework" assignments to enhance the skills and knowledge presented in each session. By the final class, you will design your own "Conversation Station" and be ready to enjoy deeper and more meaningful engagements with your loved one.
This class/program is free to patients/families seen at the Penn Memory Center and made possible from the philanthropic Caring Difference fund. Please consider making a donation so that we are able to continue offering support programs such as this.
If you are not affiliated with the Penn Memory Center, you are welcome to join this class/program if you make a donation of any amount to the Caring Difference fund.
Questions?
Contact: Meg Kalafsky
Phone: 267-624-4282
Email: megan.kalafsky@pennmedicine.upenn.edu